It was September 2016.
25-year-old Jordan Ryde was at her grandparents' house when a message appeared in her inbox on Facebook.
"Do you know who I am?" the message read.
"I was shaking. I was at my grandparents and I said to them, you will not believe who just messaged me. I replied straight away, saying, 'Of course I know who you are. You're my sister.'"
Her 22-year-old sister Ashley, in fact. It had been 19 years since they had last laid eyes on one another, and after many failed attempts on Jordan's end to find her little sister on Facebook, finally, finally she had means of contacting the sibling she left behind almost two decades before.
At just one year old, Jordan's mother found it difficult to look after her while trying to maintain consistent work. By day, her father would look after her, and by night, her mum would take her home. That was until one day, Jordan's dad refused to give her back.
"I spent five years with my dad until my mum won the custody battle. She was allowed to visit me during that time, but not without lawyers involved and other people around. She had to fight very, very hard to get me back."
Jordan is diplomatic when talking about the early years of her life. She describes her parents' relationship as "unhealthy" and suggests it wasn't so cut and dry that her mum could just "steal" her back. There was fear, and many lawyers, around.
And so, at such a young age, and growing up with that conflict around her, Jordan grew close to her little sister, with whom she shared a father. She remembers holding her soon after birth, she remembers saying goodbye to her three years later when she went to live with her mother, and she remembers leaving Ashley with their father and her own mother.
"I had no contact with her at all after I left because just after I left, her mum left my dad. There was nothing around then to re-connect with, there was no Facebook.
"Growing up I always thought about her, I wondered what she was doing and where she might be."
Jordan went on to live in New Zealand for 10 years before coming back the Gold Coast, the same city her sister would be living in. At the time that Facebook message was sent, they were living just 45 minutes apart. By their own admission, they "could've accidentally bumped into each other".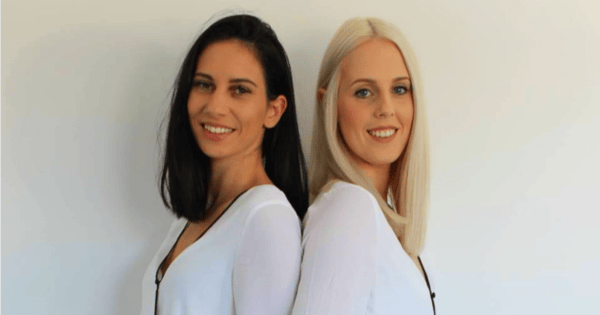 A month after that initial Facebook message, and 19 years after they had last seen one another, the sisters met up for coffee.
"At first, we just kind of looked at each other, and thought, wow, you look like me. We just stared at each other, and we couldn't believe this was happening.
"When we started to hang out, we didn't care so much about where we had been. We don't talk so much about what has happened, we talk more about where we see our future together.
"I know that growing up, she did feel a bit alone. I had left her and she did always have that feeling."
In June, after "bonding over beers", they decided to launch a business together.
"About two months ago, we went, 'OK let's actually work together'. Let's put our skills together to make something real. I was doing web development and graphic design but it was freelance and work was a bit here and there. I was ready to make it a real business, but I didn't quite like the whole sales and professional emails part. She works in an office, she is really good at that and even worked in sales last year. So she has helped me with those skills, and I get to do the things I like," Jordan said.
Together, they launched Blackfox & Alpha designing and developing websites and brand identities for small-businesses or start-ups.
"It's really good, we let each other do our own things and we work to each geniuses.
"We don't fight. I think were also so honest that nothing gets to the point where anything goes unsaid. we are quite good at communicating."
Listen: How Samuel Johnson found happiness in his sister...
And from here? Jordan said the plan is a simple one, but one that includes having her sister right by her side.
"The plan is grow this business and have more adventures. Because the business can work from anywhere, I would love to be able travel with her and work wherever. But mostly in the sun."