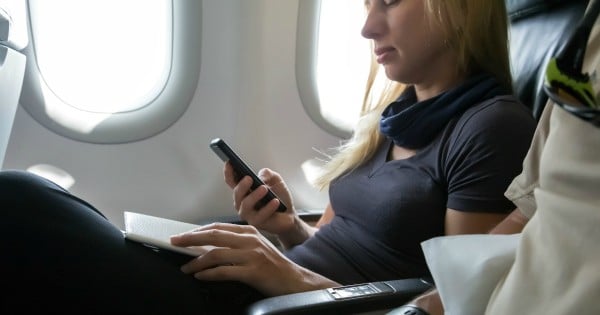 Travel is great, but the 15 hours of flying time sitting uncomfortably close to total strangers? Not so much.
Fortunately with the right tools, long haul flights can actually be as close to pleasant as humanly possible. People took to Reddit to share the flight essentials that make the experience just that little bit more bearable. Your packing lists awaits.
1. Socks. Wear them.
When a flight attendant tells you to never wear bare feet on a plane, you listen.
"I always pack a pair of socks (I'm particularly fond of the fluffy kind) but the main point is that you keep a barrier between your feet and the aircraft floor at all times. I've either personally, or through colleagues, seen every type of body fluid you can imagine touch that floor. And actually, yes, that does include afterbirth," wrote Tigerlilli07.
"Fun fact: one of my trainers has actually delivered babies in the air on three separate occasions. Planes are filthy, keep yourself as healthy as possible."
Watch: Flight attendants spill the things they wish passengers knew. Post continues after video.
2. Antibacterial wipes.
"The tray table is one of the most bacteria ridden places on the plane aside from the lavatory. I've seen people use the shoe from their feet as an iPad stand and put dirty diapers on there," continued Tigerlilli07.
"Plus for some reason people don't think it's necessary to wash their hands… I have seen literal sh*t smeared on the wall in the lavatory."
3. A scarf.
"You need something warm, even in summer. I wear a long scarf that basically doubles as a blanket. It travels really well.
"Working crew like to keep it cool because they're moving around so much. Plus, there is nothing worse than a ton of sweaty people on a plane."
4. A large (empty) water bottle.
"Those little cups just don't do it for me and we can't hand out large bottles to regular passengers. You can find water refill stations at just about every airport domestically these days." (Post continues after gallery.)