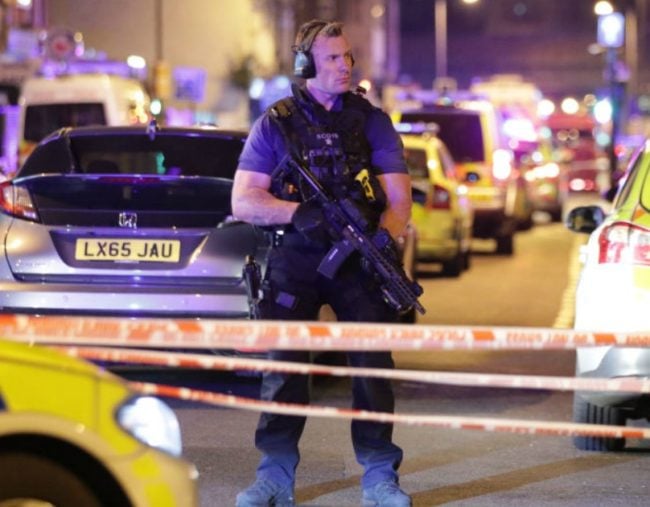 A van has ploughed into worshippers leaving a London mosque, killing at least one person and injuring 10 others in what witnesses said was a deliberate attack on Muslims.
The hired vehicle swerved into a group of people leaving prayers shortly after midnight at the Finsbury Park Mosque, one of the biggest in the country, witnesses said. The attack comes during the Muslim holy month of Ramadan.
"This big van just came and went all over us," witness Abdulrahman Saleh Alamoudi told BuzzFeed News. "He was screaming… 'I'm going to kill all Muslims'."
The current scene at Finsbury Park London after a van hit pedestrians near a mosque. Details on Sky News @SkyNewsAust pic.twitter.com/sxaw9BzMwY

— Ahron Young (@AhronYoung) June 19, 2017
British Prime Minister Theresa May said police had confirmed it was being treated as a potential terrorist attack and said she would chair an emergency response meeting later on Monday.
"All my thoughts are with the victims, their families and the emergency services on the scene," she said.
Police said one man was pronounced dead at the scene and that the van driver, aged 48, had been detained by members of the public before being arrested. The driver would undergo a mental health assessment, police said.
BREAKING: Reports of a van knocking over more than 10 people near Finsbury Park mosque in London just now @ShulemStern pic.twitter.com/T6uqKBxcGy

— Statchure™ (@statchure) June 19, 2017
Eight people were taken to hospital, while two were treated at the scene.
London mayor Sadiq Khan, said extra police had been deployed to reassure communities, especially those observing Ramadan, describing the attack as "an assault on all our shared values of tolerance, freedom and respect".
The leader of the opposition Labour Party, Jeremy Corbyn, in whose constituency the attack took place, said he was "totally shocked".
Finsbury Park Mosque chairman, Mohammed Kozbar described the incident as a "cowardly attack." He also complained that the "mainstream media" was unwilling to call the attack a terrorist incident.
The incident comes just over two weeks after three Islamist militants drove into pedestrians on London Bridge and stabbed people at nearby restaurants and bars, killing eight.
The Muslim Council of Britain said Monday's attack was the most violent manifestation of Islamophobia in Britain in recent months and called for extra security at places of worship.
"It appears that a white man in a van intentionally ploughed into a group of worshippers who were already tending to someone who had been taken ill," the council said in a statement.
Police were called just after 12:20 am to reports of a collision on Seven Sisters Road, which runs through the Finsbury Park area of north London.
"From the window, I started hearing a lot of yelling and screeching, a lot of chaos outside … Everybody was shouting: 'A van's hit people, a van's hit people'," one woman who lives opposite the scene told the BBC.
"There was this white van stopped outside Finsbury Park mosque that seemed to have hit people who were coming out after prayers had finished."
MORE TO COME.