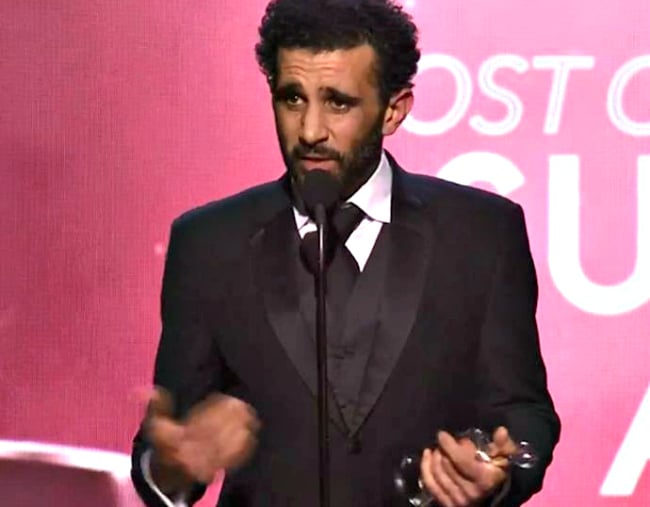 For everything on the Logies 2018, the Logies red carpet, your 2018 TV Logie awards winners and all the 2018 TV Week Logies behind-the-scenes goss, visit our Logies 2018 homepage.
Among the sequins, shiny things and problematic moments of last weekend's TV Week Logie Awards, Hazem Shammas' acceptance speech was refreshing.
"This is overwhelming. I'm sorry I've got to confess I'm slightly distracted this evening," the Safe Harbour actor told the audience as he accepted his silver Logie for Most Outstanding Supporting Actor.
That was because his being there meant leaving his wife Suzannah McDonald in Sydney with their 18-month-old son Nakhli and premature newborn baby.
Speaking to The Daily Telegraph on Saturday, the Palestinian-born actor said he almost considered not going at all.
"I reconsidered the whole trip and thought 'I can't leave' but then Suzannah, who is amazing, just said 'shut up and get on the plane and have a good time'," he said.
The publication also reports the couple are yet to name their second child, instead calling him Akhoy, which means 'baby brother' in Arabic.
Last weekend, Shammas used his Logies acceptance speech to speak candidly about his life as a dad.
"I want to take a quick moment to just send a thank you to my beautiful family. We've just welcomed a brand new baby boy into the world," he said.
"He's about nine weeks premature and while my heart is there, I wanted to send my thank yous to the amazing nurses at the NICU ward at the royal women's hospital in Randwick. You guys are the real heroes, thank you."