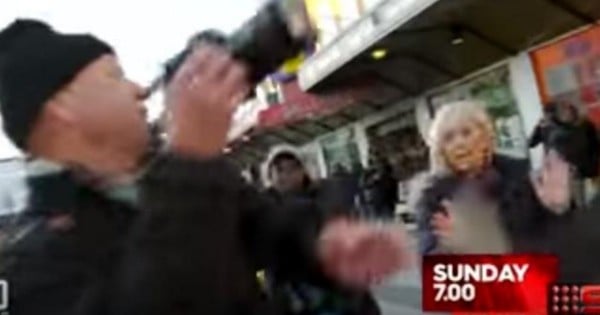 When Liz Hayes travelled with the crew of 60 Minutes to report on the refugee crisis in Sweden, she expected to be investigating news, not be at the centre of it.
On tonight's 60 Minutes, Hayes describes how she and her team became the victims of a street-side brawl in Stockholm.
"It was Sweden. I wasn't expecting hairy, but I think it all comes back to tensions and issues between migrants, immigrants and refugees and just the general friction that is occurring around the world," she says on 60 Minutes. 
"It was pretty confronting, because I just wasn't expecting it."
As soon as the  60 Minutes team arrived in the immigrant suburb of Rinkebury, tensions were obvious. Passersby noticed the camera and video equipment, leaned into the car and told the reporters to move on.
When they remained, a local deliberately ran over the foot of a 60 Minutes cameraman with his car.
Police were called, and the situation seemed to diffuse — but then, a group of men in masks returned.
"I think the crowd that were in the car must have returned with masks on, and then it turned fairly ugly," Hayes says about the frightening incident.
"It came from nowhere and it escalated very quickly."
Footage of the attack shows the crew being surrounded by masked men, who quickly become violent and start throwing punches.
But Hayes, with her extensive experience dealing with conflict, stepped in to help. "Hey, hey, hey," she can be seen saying to the attackers.