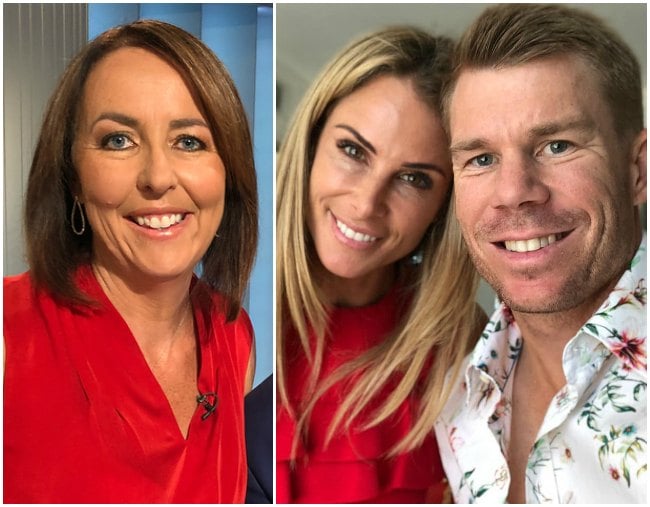 Ex-captain of the Australian Netball Team, Liz Ellis has defended wife of cricketer David Warner – Candice Warner, after fans wore masks of rugby player Sonny Bill Williams to a test match.
In 2007, Candice was caught on camera with Williams in a hotel bathroom, both drunk and reportedly engaged in sexual activities, with fans now wearing the masks in a direct attempt to taunt and humiliate the cricketer.
This was after footage of an off-field fight between Warner and South-African player Quinton de Kock emerged in which de Kock said something disrespectful about Warner's wife.
Appearing on Nine's Sports Sunday Ellis has rightfully called out this disgusting behaviour, stating that the focus needs to be shifted from the "sledging" to the obvious attempts to shame Candice.
"Everyone is focusing on the sledging. What I think is the controversy is that 40 years after the sexual revolution … 40 years after that in the middle of the #MeToo movement, in the week of International Women's Day, a player's wife is being dragged through the mud because they're attempting to shame her for her past," Ellis said.
"It really does slam through this idea that some Neanderthals have, that women are the property of their men," said Ellis.
"Here we have an international sporting competition that is essentially saying to women… you come here as a Madonna, you come here pure, or you don't come here at all.
"It upsets me to the core."
The #MeToo movement explained. Tracey Spicer joins Holly Wainwright and Rachel Corbett to deep dive on why the #metoo movement has kick-started a new way of thinking worldwide… Post continues after audio.
Also embroiled in the scandal are two Cricket South African officials – commercial manager Clive Eksteen, and media and communications manager Altaaf Khazi who were both photographed posing with fans wearing the offensive masks. Both employees have been ordered into a disciplinary hearing and are currently facing a possible termination of employment.
CSA has since issued an official apology to Cricket Australia, with a comment from president Chris Nenzani that read, "On behalf of CSA I extend my sincere apologies to the Board of Cricket Australia (CA), its officials, team management, players and their families."
While Candice has yet to publicly comment, the former ironwoman was re-tweeted tweets that have come out against the actions of the fans and South African cricket officials.