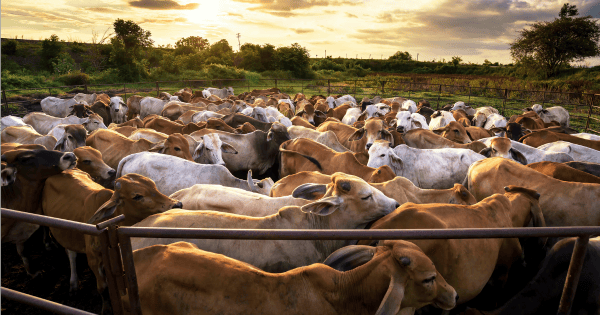 You might have been lucky enough to miss it. Earlier this week Animals Australia released footage of Australian cattle being bludgeoned to death with a sledgehammer in Vietnam. It's horrible and shocking, and it's not the first time they've captured such ghastly treatment on film. In 2011 footage from Indonesia led to the suspension of the trade while safeguards including electronic tagging of the animals was implemented.
We feel outraged by these images, and we should. How anyone can think that it's ok to inflict such pain and suffering on another living creature is beyond comprehension. We should question why these lives are seen to have so little value that the behaviour could in any way be justified in anyone's mind.
And then we should we look in our own fridges.
Watch this ABC report on the shocking treatment of Australian animals overseas. (Post continues after video.)
Yes, the unspeakable cruelty that happens to some Australian animals when they leave our shores should stop, but I don't think addressing animal welfare it's as simple as banning live exports. In fact, there is an argument that Australia's involvement in the industry actually provides us with a legitimate pathway to make those improvements internationally.
Calling for an end to live exports is easy because that's a part of the industry we as consumers don't have to feel any responsibility for.
The uncomfortable truth is that whether it's live exports or long haul domestic transportation on trucks without food and water, or the killing of calves in the dairy industry, or factory farming pigs, or chooks living in space the size of an A4 piece of paper – animal cruelty is a day to day part of farming practices. It's improved over the years, but mainstream animal farming is inherently cruel.