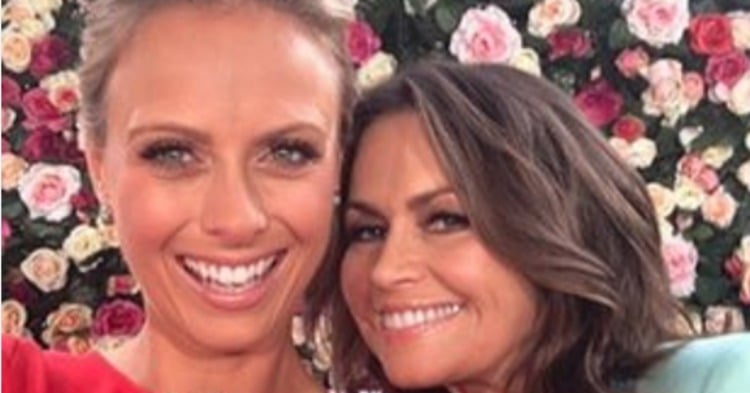 Today host Lisa Wilkinson has called out a media report about an alleged feud between herself and co-host Sylvia Jeffreys, saying the story is "complete bullshit".
A Sydney Morning Herald Saturday Private Sydney article this weekend referred to "rumours their relationship had cooled off dramatically, to the point the women barely spoke off camera."
Although the Fairfax article did clarify that Channel Nine had denied the rumours – and also cited a "source" close to the two women who said there was no truth to the rumours – Wilkinson is understandably not happy that the story was published at all.
Now, the news anchor has set the record straight in a powerful Instagram post celebrating her friendship with Jeffreys.
"[F]or some bizarre reason, a journalist at the Sydney Morning Herald decided to report on supposed "rumours of a rift" between us this weekend," Wilkinson posted on Sunday night. "So let me tell you here what I told him – and I quote – 'complete bullshit!'" Wilkinson also took aim at The Daily Mail, saying the tabloid website had "jumped on board with the same rubbish" by publishing quotes from the Fairfax story along with "suitably frozen moment headshots of Sylvia and me on camera looking like 'mean girls'." She also suggested the"source" who first told Fairfax about the rumour may be "someone not happy with the Today show now being the number one breakfast show in the country".
The 56-year-old television celebrity made clear she had no time for the media beat-up, writing: "Well, sorry, I'm not going to sit meekly by and take this." (Onya, Lisa!)
She went on to suggest that mainstream media should consider celebrating female friendship, rather than suggesting women want to tear each other down.
"Sylvia and I couldn't enjoy working together, be more supportive, or respect each other more. THAT, in fact, should be the headline!
"But obviously that sort of good news – or the crazy idea of women supporting women – doesn't sell newspapers these days. #girlpower"
Wilkinson's social media presence makes clear that she admires her younger co-host. Just a week ago, she called Jeffreys "super talented and completely gorgeous" in a post celebrating the blonde's birthday.
In late February, she referred to Jeffreys as "the on- and off-screen woman we all love" and described her as "stunning and talented."
Post continues after gallery:
Lisa Wilkinson and Sylvia Jeffreys on social media
Jeffreys has also spoken highly of Wilkinson, who has acted as a mentor and friend to her since she replaced Georgie Gardner in 2014.
"Lisa has shared a lot of personal experiences with me. She's taught me to stand up for myself," she told The Daily Telegraph last November.
"Women can find it difficult to ruffle feathers but she's taught me it's okay to be a feather ruffler if it's something you believe in."
See? No animosity here, people. Just #girlpower.
Watch Lisa Wilkinson interview PM Malcolm Turbull below.