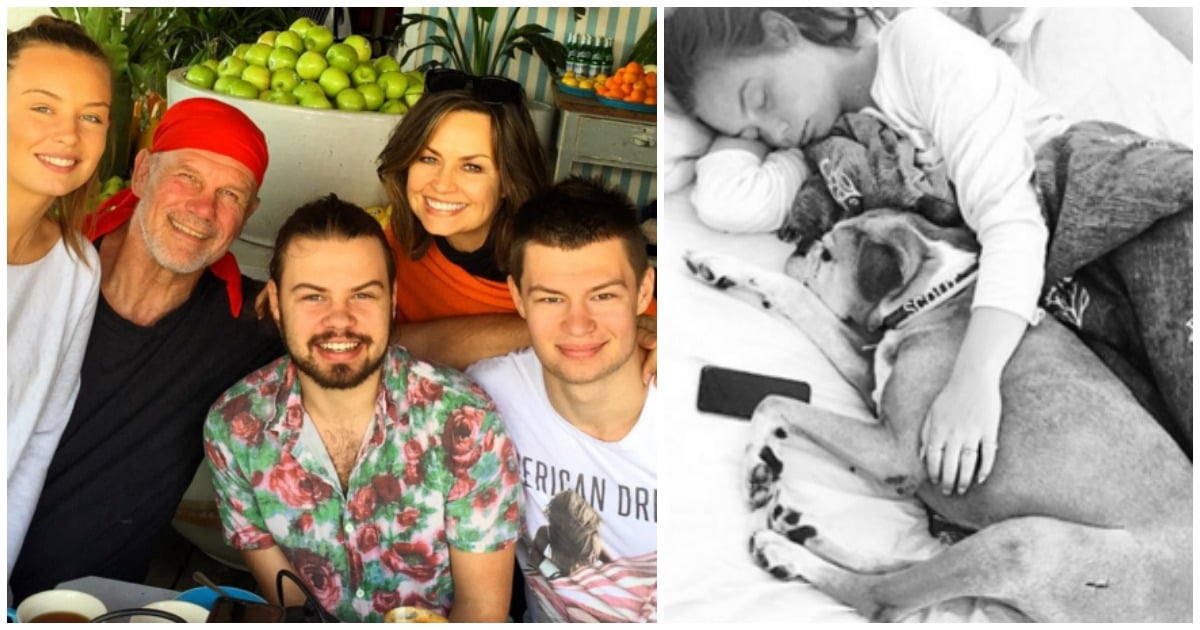 Lisa Wilkinson has written a heartfelt tribute to her pet of 12 years, a boxer named Scout, on the Huffington Post over the weekend.
Telling readers that Saturday – the day of Scout's death – was "a day our family has long been dreading, but expecting," Wilkinson cited her beloved pet's struggle with arthritis after sustaining a significant injury as a puppy.
"When she was just an 11-week-old puppy she had a terrible fall from the top of a four-metre wall here at our house — puppy curiosity getting the better of her — and her life should've ended then," The Today host and editor-at-large of the publication wrote.
She continued: "But she defied the odds and, at great expense to the management, the local vet managed to screw her shattered little bones back together. But the truth is, we would have paid anything to fix her, so quickly did she become the centre of our family's universe."
The decision to purchase a boxer back in 2004 was purposeful. The fond memories Lisa had of growing up with boxers defined her childhood, and the loving mother was determined to provide her own children with the same experience.
"I was always sure that when I had kids of my own, I wanted to replicate that beautiful experience for them. And yes, okay, for me too."
Scout brought the 56-year-old's family together in their darker days, and provided endless joy to Lisa, her husband Peter and three children Louis, Billi and Jake.
"For everyone in our family, she was a cure-all. Having a bad day? Go and spend some time with Scout," the mum of three said, "Mum and Dad on your case? Scout will give you a loving lick on the face. Kids driving you nuts? Scout again. Never taking sides. Just there. And always, always happy to see you."
Scout's enthusiasm and unending love was infectious, her greetings always the epitome of warm. The ritual of Scout bounding out to the driveway whenever somebody came home is one of Lisa's most cherished memories.
"We all received the same greeting: an excited happy dance, a tail that almost wagged itself off, a sniff of our hand, a sneeze of excitement. The sort of unadulterated, uncomplicated sheer joy just at the mere sight of you that no human ever delivers."
Heartbreakingly, while Scout was "standing sentinel" in the driveway when a guest visited early on Saturday, she was not in her usual spot when husband Peter FitzSimons later arrived home.
"When Pete arrived home soon after with no Scout waiting in the driveway, he knew something was wrong. Ten minutes later he found her. There she was, lying peacefully, in the afternoon sun in the dappled light thrown by the weeping mulberry tree. It was a favourite spot whenever her old bones needed warming."
"… I hope with everything in my soul that her end was peaceful. That, realising she was right at the bottom of that hill, she just closed her eyes and slipped away. Anything else is too much to bear."
Burying their beloved pet was unsurprisingly difficult, but Lisa was able to find closure when she looked at Scout's peaceful face, finally free of the pain which plagued her tired bones.
"As the sun started to drop in the sky and deliver us one of the most perfectly warm, autumnal, late afternoons any of us can remember, our eldest son Jake did his bit to dig her final resting place. But before she went I steeled myself for one last look at her beautiful face in the soft light — and I'm so glad I did. As I gently drew back the quilt, I could see it: her poor body now finally free of pain. She had gone peacefully. Our sweet girl was finally at rest.
"And we wept.
"Sleep well, dear Scout."
You can read Lisa's full tribute to Scout here.
Have you lost a pet? How did you mourn their death?
Dogs can add so much to life, watch Mia Freedman discuss adopting a dog from the Sydney Dogs and Cats Home. 
Featured images: Instagram/Lisa Wilkinson