As the anchor of one of the most-watched programs in the country, and having cemented herself as one of the most-loved journalists on our screens, Lisa Wilkinson – one would assume – is of prized value at Channel 9.
She has a huge social media following across multiple platforms. She is an ambassador for several high profile charities. Whenever she's on the cover of a magazine, sales go up. It's hard to think of a more high profile role model for women in Australia.
And yet.
A new report out today from Annette Sharpe at the Daily Telegraph suggests Wilkinson is paid only half of what her co-host, Karl Stefanovic, takes home every year.
Half.
However, the paper reports, the next month or two could be telling. With her contract up at the network, and Wilkinson in negotiations for another, the subject of her worth is no longer something that can go unrecognised.
In 2015, The Australian reported Karl Stefanovic is "actually taking home about $2.5m annually" on a three year contract, while Wilkinson takes home less than half of that, signing on – in January 2016 – for a reported $1 million a year.
In May, when Wilkinson herself was pressed on the claims in an interview with Charlie Pickering on The Weekly, she denied she had any knowledge of Stefanovic's pay.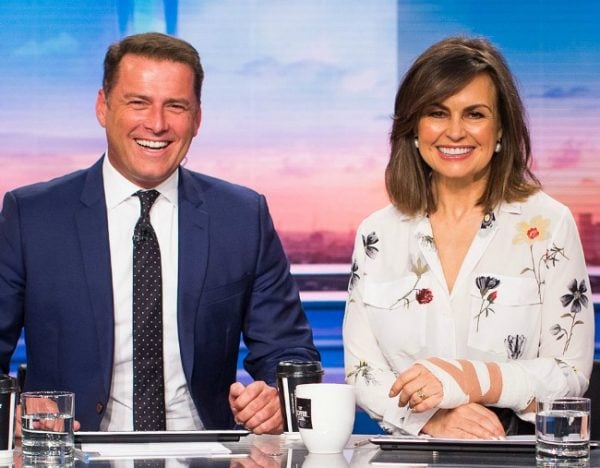 "It's been widely reported that Karl is paid significantly more than you to host The Today Show. Why do you think that is?" he asked.
"And you believe everything you read?" Wilkinson said, before telling the program she has "no idea what Karl's on", just "as he has no idea was [she] is on".
"I can put my hand on my heart and say I have no idea what Karl is paid, and he has no idea what I'm paid.
"Besides, I do it out of love, anyway."
Presumably though, there are those at the network who do know what both stars are paid and it's believed this information has leaked, pointing to a significant discrepancy between the two co-hosts.
In a year where Stefanovic's private life has become fodder for public conversation and reportedly had a negative impact on the show's ratings against rival Sunrise, his co-host has been a steady hand steering the Today how ship. It is, perhaps, for this reason News Corp reported this week Channel 9 were launching a campaign to get Wilkinson a Gold Logie nomination.
We have a question: what took them so long?
A source at the network confirms that to be nominated for a Gold Logie,"your network has to be behind you and Nine has never backed Lisa with a Logies campaign. That's why she's never been nominated let alone won her own Logie. Karl always has full network support. He's one of the guys. But many people around here feel that Lisa isn't valued like she should be."
This year, in the glaring absence of any official campaign for Lisa, Mamamia took it upon ourselves to launch our own campaign on her behalf (and that of Leigh Sales) - despite being a rival media organisation - because we felt it was preposterous that after 10 years of hosting the Today Show, Lisa (or Leigh) had never been nominated for Gold.
"Nine's promotions team have ensured that Lisa is the number one Nine talent in the public eyes during the voting period," the media insider told Confidential this week, in the news regarding 'Project Lisa'.
It's in this context that you would think - assuming reports she's earning substantially less than Stefanovic are correct - that Wilkinson has leverage to close the pay gap once and for all, and formally claim her status as one of the most successful faces on our TV.
You go girl. We're right behind you.
Listen: Mia Freedman interviews Lisa Wilkinson for No Filter.