"I come in every day thinking, any day now someone is going to pat me on the shoulder and say, 'Okay, you've had enough fun now, time to pass the baton to the next one'."
For the record, that's not my quote. I didn't say those words, but I very well could have.
It's not my mum or my boss, or my friend. They didn't say those words either. But they very well could have.
Perhaps you could have.
How often do you think about your job? How often do you wonder if it's yours for much longer?
Lisa Wilkinson, 56, thinks about it. Lisa Wilkinson thinks about it everyday. Because that quote? That quote is hers. All hers. Every word, every bit, every fear.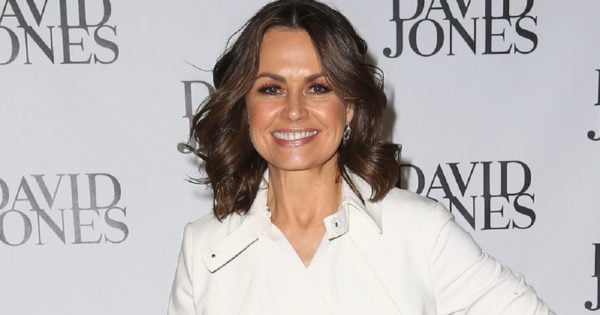 It is emotionally shattering when the most well-known face on your television admits, with such candour, that she worries often about losing her job.
"For as long as (this job) lasts I'm going to make the most of it. There is no better job in television," she told the Daily Telegraph on Saturday.
It's no small, strange coincidence that it was Wilkinson, and not her Today Show co-host Karl Stefanovic, who has publicly articulated the fact she worries about her job.
Her thoughts aren't unique to her. You could argue they are distinctly female.
Wilkinson is a successful, respected, whip-smart journalist.
And yet she can't shake that feeling that plagues so many of us: feeling unsure about yourself, your ideas, your performance, your promotion potential, your job's future.
Of course, in part Wilkinson's worries are a nod to the fickle nature of working in television.
But her comments also belong to another broader narrative.
Across the world women feel a deep sense of Imposter Syndrome at work. Bluntly and generally, women undervalue themselves far more than men.
And it's little wonder this is the case, when we keep being assaulted by statistics that show the sorry state of our gender pay gap and the number of female CEOs.
In August it was reported that men in Australia were still paid on average about 20 per cent more than women. And as of June, the proportion of women on ASX 200 company boards sat at 23.4 per cent.
Until these figures and the culture at work is rectified, women's career confidence will continue to take a hit.
Writing for the Daily Telegraph in the UK, Deputy Editor Claire Cohen put it most eloquently in her exploration of the insidious nature of Imposter Syndrome among working women.
"There is, I realised, a fine line between self-deprecation and self-destruction," she said last year.
This idea about Imposter Syndrome is a simple one. Valerie Young, author of The Secret Thoughts of Successful Women, describes it as "always waiting for the other shoe to drop. You feel as if you've flown under the radar."
Lisa Wilkinson talks to Mia Freedman about all things work and Karl. Post continues after audio.
It's not a feeling that discriminates either. Facebook's chief operating officer Sheryl Sandberg has touched on it.
''There are still days when I wake up feeling like a fraud, not sure I should be where I am," she said.
Wilkinson certainly did not say she felt like a fraud or an impostor.
It is probable that she doesn't even have Imposter Syndrome. But her comments have tapped into a much wider, female feeling about our position in the workforce.
And it's one that is not helped by the shocking career cases of successful women like Brisbane radio's Robin Bailey, who recently lost her job at her top-rating 97.3FM breakfast show alongside Terry and Bob.
When you have women as talented as Bailey unceremoniously sacked, women like Sandberg admitting she doesn't feel worthy enough and women like Wilkinson looking over her shoulder, that's when you've got yourself a problem.
Wilkinson's comments alone might fly far under our radar, but put them in context, and we find ourselves looking at a situation that hits astonishingly close to home.
If anything, let her remarks be a reminder that we must keep fighting for change and workplace equality, for the sake of the confidence of the future generation of women.