The government might have been caught napping yesterday, but Lisa Wilkinson certainly gave them a serious wake-up call this morning.
The Today Show host grilled Liberal politician Christopher Pyne on air, taking him to task over yesterday's embarrassing shenanigans in The House of Representatives. For the first time in more than 50 years, a majority government was defeated in three consecutive votes on the floor. And we're only three days in.
The reason? A bunch of senior ministers and MP knocked off early.
Having established that Pyne, the Leader of the House, didn't give permission for his staff to head home, Wilkinson pummelled him over the incident.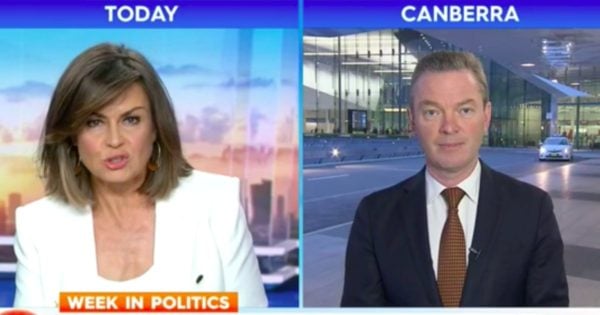 Pyne admitted that the whole saga was a "stuff up", but suggested the public are more concerned about the government's handling of bigger issues than the loss of three procedural votes to adjourn The House of Reps.
"Well hang on Christopher. This actually strikes at the heart of whether you've got a stable, working majority," Wilkinson shot back.
"But this is your job, as the manager of government business. How on earth could you let this sort of sloppy government happen at the end of the first week of a sitting?"
"Well, it's certainly a salutary lesson for anyone who went home before the house rose," responded Pyne. "And I'm absolutely certain that this won't happen again."
When questioned how the Prime Minister will deal with the whole shit-storm, Pyne suggested that "the internal machinations of the Liberal party, and how we manage our affairs, are not of great interest to people out in the community getting on with their lives, going to work this morning, going to school this morning."