While it feels like everyone (or at least everyone on social media) is intent on making their lips look bigger with fillers, a growing number of people are doing the exact opposite.
According to New Beauty, there's another plastic surgery trend that's been flying under the radar – lip reduction surgery.
Particularly popular in Asia, it's typically favoured by younger patients in their 20s and 30s and performed by plastic surgeons and GPs.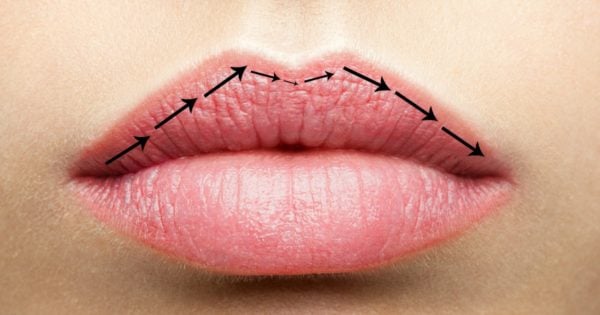 According to New York dermatologist Doris Day MD, the procedure is very trend-led and works similar to a tummy tuck.
"The procedure involves surgically cutting at the wet-dry line and pulling the lip underneath inside the mouth to reduce overall size," she told the site.
Stitches are then used to create a new lip line, resulting in a smaller, thinner pout.
Like its plumper counterparts, the results of the surgery are often showcased on social media.

We're not going to lie, it looks pretty painful.
According to Allure, patients are placed under local anaesthesia for the operation, which can take between 15 to 30 minutes per lip.
The stitches have to be kept for a week then they dissolve or are removed manually.
Interestingly, lip reduction surgery tends to be much more expensive than fillers.
Listen: Another strange plastic surgery trend has everything to do with your nipples. Post continues after audio.

While there are plenty of people getting lip reductions, the statistics available show that the number of lip enhancement surgeries has increased dramatically over the last few years.
According to Thailand-based dermatologist Dr Nuttae Nuttapon, lip reduction surgery was particularly popular in Asia five to 10 years ago but is still regularly performed.
"Asian men and women typically prefer Caucasian facial features, which are narrower cheekbones, deeper eye sockets and thinner lips," he told New Beauty.
"Nowadays the trend has shifted to prefer thicker lips following the fame of some Hollywood celebrities who have sexy, full lips."
Whichever way you're going, the bottom line remains the same - always do your research and go to a highly-trained, certified professional.
Listen: The full episode of Mamamia Out Loud is here. It's the podcast with what women are talking about. Subscribe in iTunes, or get it via the Mamamia Podcast app.