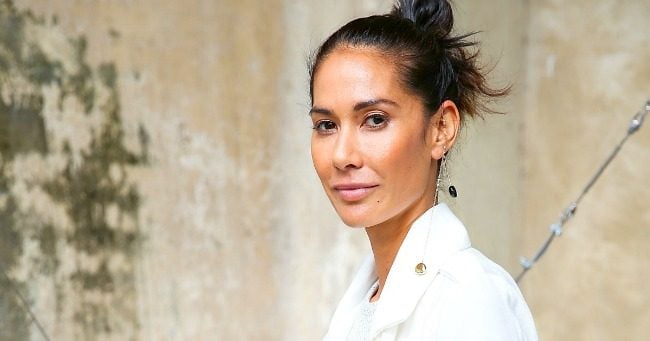 "After having Goldie, I knew I had to be kinder to myself," Lindy Klim explains on a rainy and cold Sydney morning – a world away from her tropical paradise home in Bali.
Klim is explaining how she's changed since having her fourth baby – Goldie, now six-months-old – not only physically, but as a person. For someone who's lived most of her life in the public eye, as a Balinese princess (she is the niece of the King of Denpasar), and formerly married to an Australian Olympic gold medallist (swimmer Michael Klim), the pressure she used to feel to meet society's expectations has dissolved.
And just in time, too, because since the birth of Goldie (whom she had with fiancé Adam Ellis), she's had one of her biggest years yet. Not only is the 40-year-old now a mum to four (she has three children with Klim: Stella, 11, Rocco, nine, and Frankie, six),  she also has fashion label Rama Voyage – a resort-wear range – that's launching its new collection in Husk stores this July.
Klim admits that after her other pregnancies, she felt the need to portray the 'bounce back' and the 'togetherness' that mums seem to be expected to display. But this time around, at the age of 40, things were every different. Klim suffered from arthritis and intense morning sickness throughout her term, and after she'd given birth, she simply didn't have the capacity to care whether her body was 'bikini ready' again, or whether she was getting stretch marks.
"There's six years between Goldie and Stella," Klim says. "It was very different to when I had Stella at age 27. Physically, my body found it challenging. I didn't feel great. I found myself constantly looking at Instagrams of other pregnant women, who all seemed to healthy and glowing, and I didn't feel like that."
Klim's solution was to unfollow anyone who made her feel like that at the moment, and it instantly made her happier. Clearing her mind of external pressures also helped when she brought Goldie home.
"There was definitely a period of adjustment in the family dynamic," Klim says. "I had to ensure that after six and a half years of it being three children, those kids still felt important."