Lindsay Ann Hawker was 22 years old and eager to see the world.
She'd just graduated from the University of Leeds in the UK and next her spirit of adventure was taking her to the Land of the Rising Sun.
When she arrived in Japan in October 2006, she got a job teaching English with the Nova language school in Koiwa, Tokyo.
Life in a fast-paced foreign city was a far cry from her cosy existence back home where, before university, she'd been living in a village with her very close knit family – parents, Julia and Bill, and her sisters, Lisa and Louise.
But after a few months in her new home, she was settling in. She was excelling in her job and making plans for the future. Her boyfriend of four years, Ryan Garside, had booked a flight and was going to join her soon.
They wanted to save some money, travel the globe, then who knows. Maybe marriage, kids. A long life together.
But a devastating chain of events would mean those plans would never come to fruition.
On 20 March, a 28-year-old man named Tatsuya Ichihashi spotted Lindsay on a Tozai Line train.
He ran after her as she cycled home from Nishi-Funabashi Station to her apartment talking to her about biology (which she'd studied at uni) and begging her for a private English lesson, the Japan Times reported.
Ichihashi was insistent.
When Lindsay arrived home, knowing her two room mates were present, she allowed Ichihashi to come inside briefly for a glass of water. It was then he drew a sketch of her on a scrap of paper and scribbled out his address and phone number.
That night, Lindsay referred to the incident in a message to her friends and family on her Facebook page.
According to The Telegraph, she wrote: "Love u lots dont worry abt the gut [guy] who chased me home, its jus crazy Japan. miss u xxx."
It was the last thing she'd ever post on the social network.
It seems in the days that followed Lindsay's helpful nature (or her desire to save as much money as possible for her round the world trip) got the better of her. On 24 March – she agreed to give Ichibashi an English lesson at 10am at a local coffee shop. An email she sent to her boyfriend about her plans confirmed this detail.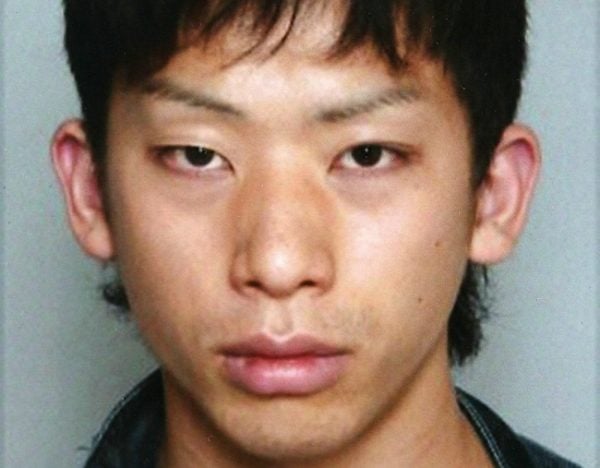 Tatsuya Ichibashi. Image: Getty 
After the lesson, Ichibashi told her the money he needed to pay for the lesson was at his apartment. They travelled there together in a taxi but before she popped inside, Lindsay asked the driver to wait.
He did, for seven minutes, he later testified, before driving off. He assumed she'd changed her mind about an ongoing journey.
The next day, Lindsay did not turn up for work. The day after that, staff at the language school called Lindsay's dad.
Police began to investigate, quickly finding Ichibashi's note in Lindsay's apartment.
But by the time they got there, it was far too late. As officers tried to apprehend Ichibashi at the front door, he fled in his socks, dropping a rucksack full of cash on his way out.
They searched his apartment and found Lindsay's naked body in a bathtub full of sand on the balcony.
A post mortem showed she had been "sadistically" beaten, raped and strangled.
The next day, he'd dragged his bathtub on to the balcony before going out to buy garden soil, a shovel, deodorants and a substance to decompose waste.
He'd buried the body and had been planning his escape when officers arrived at the house, The Guardian reported.
A nationwide manhunt was launched but months passed and there was no sign of Ichibashi. Lindsay's family made repeated visits to Japan and requested help from the general public.
At a press conference in March 2008, Bill Hawker said: "He murdered my daughter and he might murder again."
Breaking down in tears, he added: "I have a dreadful feeling of helplessness, a horrible feeling of not being able to do anything.
"Last time I was here, I banged on the apartment door where she was murdered and promised Lindsay I'd find her killer. I haven't found him yet but we won't give up."
All up, Ichihashi spent two and half years on the run. During this time, he wrote a book called Until The Arrest, in which he detailed his attempts to change his appearance, including scissoring off his lower lip, digging two moles out of his cheek with a box cutter and giving himself a nose job in an attempt to obscure his identity.
LISTEN: How they found Daniel Morcombe's killer. Post continues after audio...
He failed however to explain his crime or give a motive for the murder.
Despite his changes in appearance, Ichibashi was arrested trying to board a ferry in Osaka in November 2009.
He admitted raping Lindsay and causing her death but he said he hadn't meant to kill her. Instead, he claimed that he had put his hands around Lindsay's neck in an attempt to stop her from screaming.
The jury rejected his claims, ruling that he had intended to murder her - and he was jailed for life.
Speaking after the sentencing, Lindsay's father Bill said: "We've waited four-and-a-half years to get justice for Lindsay. We have achieved that today, and we are very pleased."