Content warning: This post deals with eating disorders, and may be triggering for some readers.
The Netflix film To The Bone has generated heated and important conversations about the portrayal of eating disorders in popular culture, ever since it's release earlier this month.
The film stars 28-year-old Lily Collins, who plays 20-year-old Ellen, a college drop out who is in the throws of anorexia, one of the most lethal of all mental health disorders.
Since it's release, Collins has opened up about her own struggles with both anorexia and bulimia as a teenager.
LISTEN: Is To The Bone completely irresponsible? Mia Freedman, Monique Bowley and I go head to head on the latest episode of Mamamia Out Loud. Post continues below…
Given her past, her weight loss for the film was monitored closely by a nutritionist, although many reports claim that she lost the weight in less than a month.
But the most alarming feature of her dramatic weight loss, was other people's reaction to it.
In an interview with Net-A-Porter Collins said, "I was leaving my apartment one day and someone I've known for a long time, my mom's age, said to me, 'Oh, wow, look at you!'"
"I tried to explain [I had lost weight for a role] and she goes, 'No! I want to know what you're doing, you look great!' I got into the car with my mom and said, "That is why the problem exists."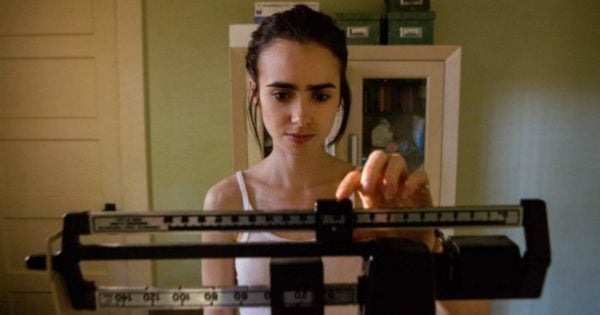 Collins' character is severely underweight and malnourished. Her appearance on screen is intentionally confronting. Yet one does wonder; would her body really be so out of place on a red carpet?
With that said, Collins told Net-A-Porter that after filming she was told "a lot of media didn't want me in their magazines."
"Not just on the cover—they wouldn't put me inside looking the way I did, even though it was for a movie," she said. "I told my publicist that if I could snap my fingers and gain 10 pounds right that second, I would."
Since, Collins says that she has healthily put the weight back on and that her days of viewing food as punishment are well and truly behind her.
If you or a loved one is suffering with an eating disorder, Mamamia urges you to contact The Butterfly Foundation. 
 You can listen to the full episode of Mamamia Out Loud, here.