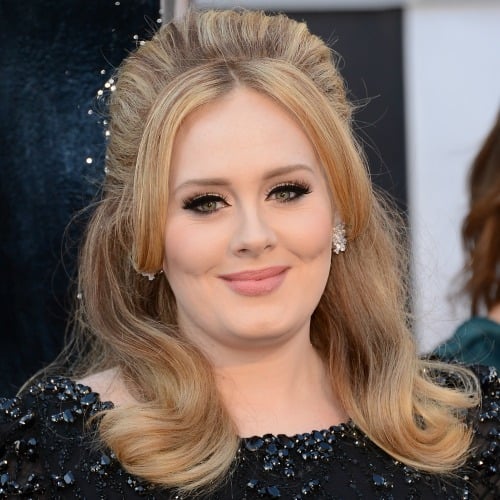 One of the most painful realities of growing up is learning that acne doesn't always end when your adolescence does. In fact, pimples, blackheads and cysts can stick around well into your adult life. You can also experience late-onset acne for the first time as a grownup, even if your skin was smoother than a baby's during high school.
Adult acne isn't uncommon, but the strange thing is… nobody ever talks about it. As teenagers we all bemoaned our pimples together, but these days they're shrouded in secrecy and Instagram filters.
RELATED: 8 ways to deal with acne when your skin should've grown up by now.
This is precisely why we love the latest 'gram from UK pop star Lily Allen. Usually it's the 30-year-old's radical hair colours that grab our attention, but last night it was a close-up photo of her chin that interrupted our scrolling. Look closer:
"How is it fair that I get acne at 30 ? #1stworldproblems", Allen told her 659,000 followers. (Unrelated note: how great is that earring?!)
As the Hard Out Here singer acknowledges here, adult acne isn't the world's most pressing issue. It's probably not even in the top 100. However, that doesn't mean it's a pleasurable experience by any means.
Nasty breakouts can make even the most confident among us feel kinda shit about ourselves, so seeing a star like Lily Allen use her fame to say, 'I feel you, I get it too' is heartening.
RELATED: 7 physical signs of stress you're probably not aware of.
Unsurprisingly, her many followers seem to agree.
"I'm 42 and have it too. I like to say I have the skin of a teenager," one commented. "I haven't had a problem with acne until I turned 23... and it sucks," said another. (Post continues after gallery.)
Other commenters were quick to highlight that Allen's fame, beauty and success "equal out" her blemishes, which is a rather flawed equation.
Sure, being insanely rich might give the watermelon-haired singer better access to treatments for her acne, but that doesn't undermine the positive effects of her upfront honesty. P.S If you do suffer from adult acne, look to include a gentle cleanser like Iluka's Nourishing Cream Cleanser ($19.95) in your routine.
So often we're only granted access to the 'flawless' side of celebrities' lives — the gorgeous red carpet photos, airbrushed magazine shoots, and even Instagram photos they've perfected themselves (hi, Kim Kardashian). That's fine; it's often part of their job to be other-wordly and amazing to look at.
RELATED: Emma Freedman: "The worst breakout of my life – and how I fixed it"
Yet any time a famous woman decides to let the showbiz facade drop a little — be it Chrissy Teigen refusing to hide her stretch marks, or Lorde and Tavi Gevsinson (below) sharing photos of their faces dotted with pimple cream — it goes a long way in letting us mere mortals know it's okay to have imperfections because all humans do.
Even the famous ones. It's easy to forget that.
Hell, it probably even reassures celebrities that it's okay to have imperfections, because you certainly wouldn't know it from some of the nasty headlines they cop.