*Salima is a widow and a refugee. She's 25 years old.
Salima is one of the 700,000 refugees who have fled horrific violence in Myanmar since late August last year. Most are Rohingya, an ethnic minority, and they have sought protection at Cox's Bazar, Bangladesh – now home to the world's largest, most densely populated refugee camp.
Many women in the camp have harrowing memories of their families being slaughtered, their villages burned to the ground. Some women were so brutally raped that they didn't survive. Thousands of marginalised girls and women, including female-headed households, are among the most vulnerable in the camp. Many worry about being sexually assaulted or trafficked, so they don't leave their shelters after nightfall.
Not legally permitted to work, women struggle to find ways to support their families. Lacking official refugee status in Bangladesh, their chances are limited for resettlement in countries like Australia. On World Refugee Day, we step into the daily life of Salima, a single mother who is doing everything she possibly can to protect her one surviving child.
4am:
Morning comes very early here. Jannatul is still sleeping. I'm thankful that she doesn't have nightmares after all she has seen. She doesn't talk about it, but I know she remembers.
It happened last September. They arrived at night and started shooting. They set fire to our homes and burned our community to the ground. People were running everywhere. Jannatul was with me, but I didn't know what had happened to my husband, Mohamed, and my other two children. Later I saw them dead. Mohamed was shot. My son, Hafej, was just two years old. My baby, Kalima, was one. They were stabbed to death.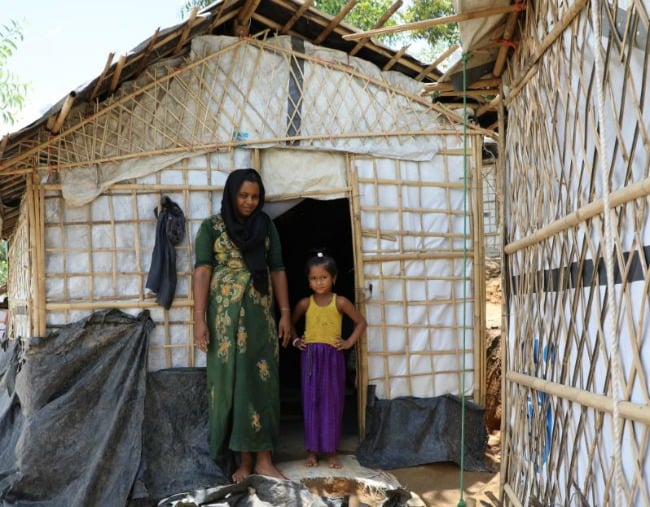 That night, we hid by a riverbank. We walked for a week in the rain, and for three days we didn't eat. Jannatul was about to die when another family shared some rice with us. We were thankful. We saw so many people dying or dead on the roadside.