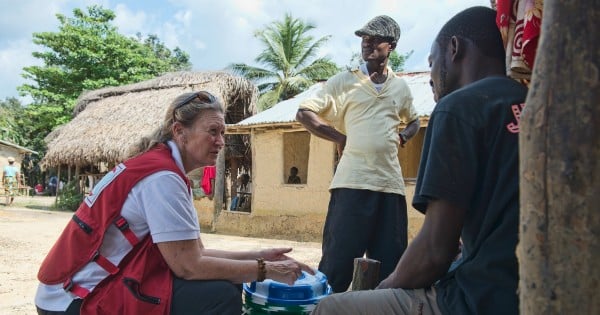 Each week we will be running Q&As with Australian women doing vital humanitarian and aid work. Women you may not have heard of.
This week meet Libby Bowell, Australian Red Cross Health Aid Worker in Nepal.
1. What does your role entail on a day-to-day basis?
Every mission is different but right now, I am working with Red Cross in Nepal. My role has been to set up a health program in an areas heavily affected by earthquakes, run over the next one to two years. On a day-to-day basis, my role also involves supporting the local Nepalese Red Cross to build capacity to respond better in future emergencies. As the international Red Cross, we stand side-by-side with our local counterparts to help make dealing with the emergency a little easier. I can be working at the headquarters level or in the 'field' or in local communities with local families.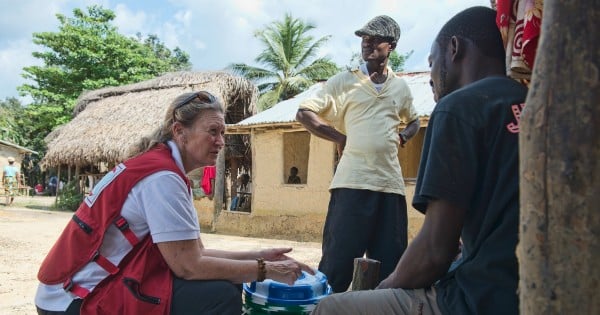 Libby Bowell in Nepal. Photo: Victor Laken, International Federation of Red Cross and Red Crescent Societies (IFRC).
2. How did you become involved in humanitarian/aid work?
I was working as a remote area nurse in the Northern Territory and met other nurses who worked between remote and international humanitarian aid work. There are many similarities between remote Australia and international aid – the isolation, the lack of resources, the needs of the communities, so it seemed like a natural next step. The compliment between remote health in Australia and international work has been very valuable.
3. What are the most rewarding/challenging parts of your job?
The most rewarding part, as cliché as it sounds, is being able to make a difference in people's lives. We don't get to do that as much in Australia but in the humanitarian world, the needs are huge yet often simple, like the ability to prevent or stop a diarrhoea outbreak by just teaching people about washing their hands with soap. Watching women become empowered with knowledge that can change their own lives and their children's futures is very rewarding. When a woman can stop her children from getting sick, her standing in the community is often recognised and the information shared at market places and around washing points.