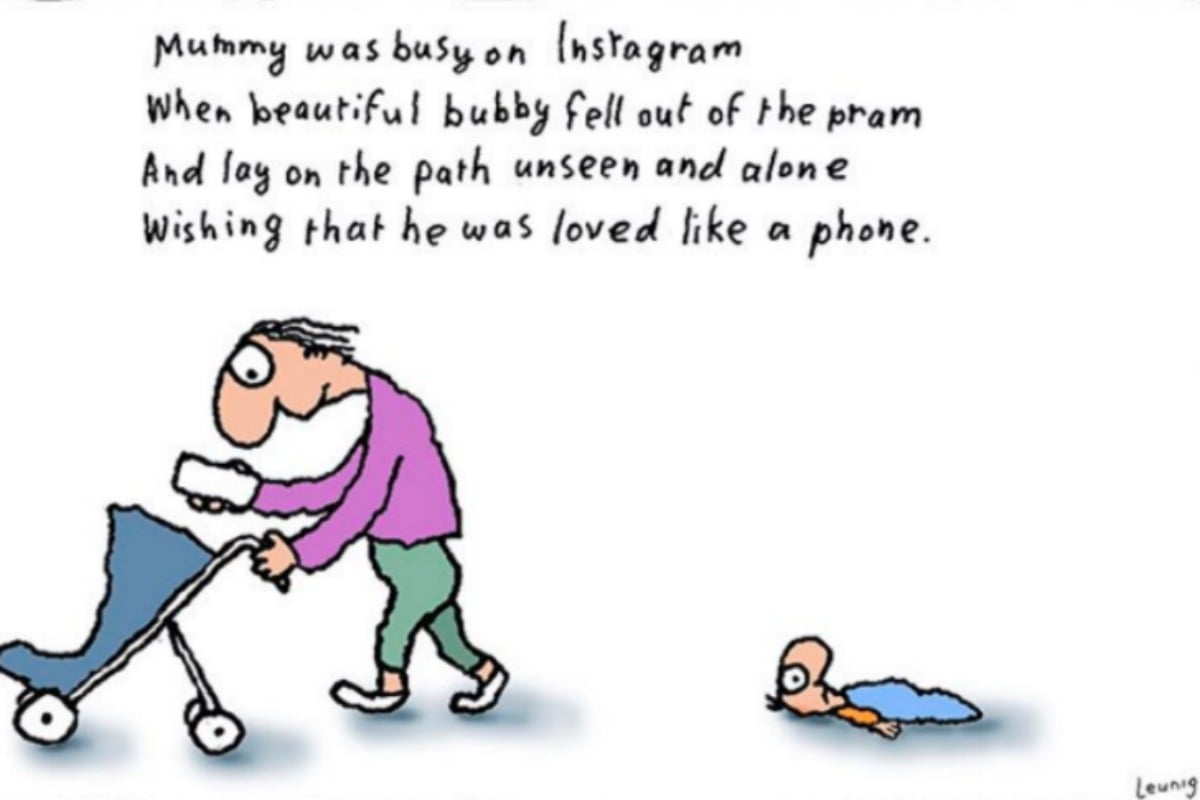 You might have seen the Leunig cartoon.
Published in The Age and The Sydney Morning Herald on Wednesday, the cartoon depicts a mother pushing a stroller while looking at her phone.
A few metres behind her lies her baby who fell out of the pram without her even realising it.
Strange. I've been a mother for 12 years and not once did my child ever fall out of his pram without me noticing.
The text above the cartoon reads:
"Mummy was busy on Instagram
When beautiful bubby fell out of the pram
And lay on the path unseen and alone
Wishing that he was loved like a phone."
Ah, yes.
Mothers are always the enemy.
The cartoon has, of course, been subject to heavy criticism.
But here's the thing. I'm not denying I've never checked my phone while in the company of my child. Quite the opposite.
I was once mobile phone shamed in a restaurant with my six-year-old son.
I looked up from my phone to find a waitress at our table, not there to take an order or deliver our meals, but to tell me off.
"You know, your son is sitting right there," she told me.
I stared at her impassively and replied: "I'm making a change to my father's death notice that's in the paper tomorrow."
That shut her up.
My dilemma was that yes, I was with my son – but there was a mistake in my father's death notice and I could email the newspaper about it from my phone, immediately. My son; well, he would just have to wait for a minute. When most of my attention normally goes to him, was that so bad?
That's the thing that made me the most annoyed about the waitress – the situation, when my full attention wasn't entirely on my son, was not the norm.