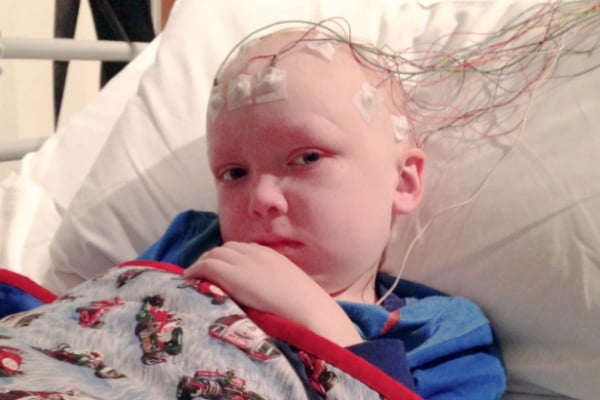 What we thought was going to be an average Thursday two years ago, turned out to be the worst day of our lives.
In April 2016, our local GP referred my cheeky five-year-old son Hayden to the Children's Hospital at Westmead. He was feeling unwell with persistent fevers, bruising and lethargy. The GP suspected a problem with his appendix, but what we didn't know was this day was going to change our lives forever.
After a blood test in the Emergency Department, the doctor ushered Hayden and I into an isolation room and said barely above a whisper that they believed Hayden had leukaemia.
This was going to be confirmed the following day when the doctors were able to obtain a sample of his bone marrow under a general anaesthetic. As the doctor arrived following the operation, we followed her down the very long ward corridor knowing our worst fears were about to be realised.
Our beautiful son was diagnosed with Acute Lymphoblastic Leukaemia. My husband and I sat holding our breaths, listening to the doctor describe the cancer. Not even in our worst nightmare could we have imagined the extent of what our little boy was about to endure, in order to fight for his life.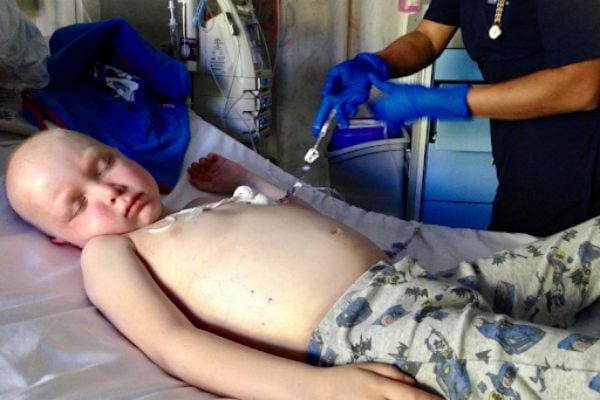 After months of treatment, we were told it wasn't working as expected and he was upgraded to a High-Risk Protocol. Our already challenging world became even more so. In the darkest days I would lay in Hayden's bed comforting him whilst the nurses stood behind, comforting me. One of the hardest moments, was during Hayden's most intensive treatment when we were rushed to the emergency department at 2am on a very cold winter night, and he turned to me and asked if he was going to die.
If that wasn't enough, our family was also torn apart. I spent most of my time with Hayden in hospital whilst Hayden's sisters Maisy, eight, and Grace who was just a toddler, were cared for by my husband and their grandparents. The impact on them was enormous, we watched our little girls go from being happy and confident to nervous and anxious overnight. As Camp Quality (Australian children's cancer charity) would say, our girls lost their Kid-ness. Wondering what Kid-ness is? Well it's a new word that Camp Quality created which represents the the essence of being a kid - it's the sheer joy for being in the moment - which is something kids and their families lose during a cancer experience like ours.