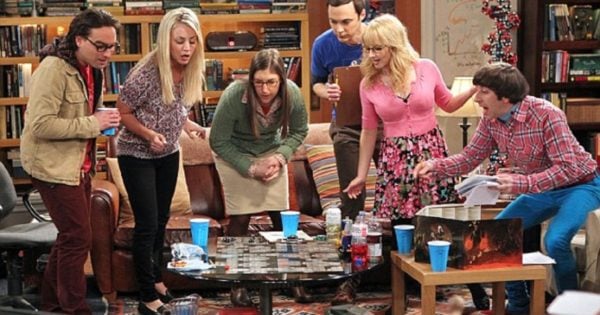 I can't say I've ever stopped and analysed my enjoyment of The Big Bang Theory. 
For me it's always been a reasonably funny show I can watch whenever I stumble across it. No matter how many episodes I have missed, I can still easily figure out what's been going on.
The Big Bang Theory can always be relied upon for some easily digestible humor.
Sometimes, it has me in stitches.
Which is why I was ASTOUNDED to discover that two women I admire greatly don't share my sentiments.
One shall remain nameless (she's copped enough heat from The Big Bang Theory fan mob on social media) and the other is Rosie Waterland.
Rosie, say it isn't so!
They actually go so far as to call it the worst show on TV.
Rosie Waterland and Laura Brodnik speak with Jo Abi about The Big Bang Theory during The Binge and things get a bit heated.
Rosie and Laura Brodnik invited to discuss my controversial viewership (since the very first episode) one of my favourite podcasts, The Binge, and I felt like a nervous wreck.
Why do I love this show so much? Why doesn't Rosie? Is there something wrong with me? Do I have a crappy sense of humour?
The main criticisms of the show, shared by Big Bang haters around the world, seem to be:
It's sexist.
So many people say they are uncomfortable with how Penny is presented on the show as the "dumb blonde" but I never see her like that.
Sure, she was naive when she moved into the building. She's a small town girl chasing her dream of becoming an actress and she isn't academically smart, but she is wise and through her friendship with the geeky boys she has make their lives even better.
Penny, Amy and Bernadette may be specific types of girls but they aren't trying to represent all women. Why do people put that sort of expectation on shows like this?
It relies too heavily on stereotypes.
The shy Indian guy, the dumb blonde, the geeky scientists, the Aspie…sure there are lots of stereotypes on the show and people say they are offended by how cliche they are but what do you expect from a sitcom?
This show is designed to be easily digestible and it achieves this by being super-easy to understand and catch up on. Plus, I like the idea that the show celebrates difference. You can be a nerd, you can be shy around girls, you can be naive but you can still live an interesting and unapologetic life.