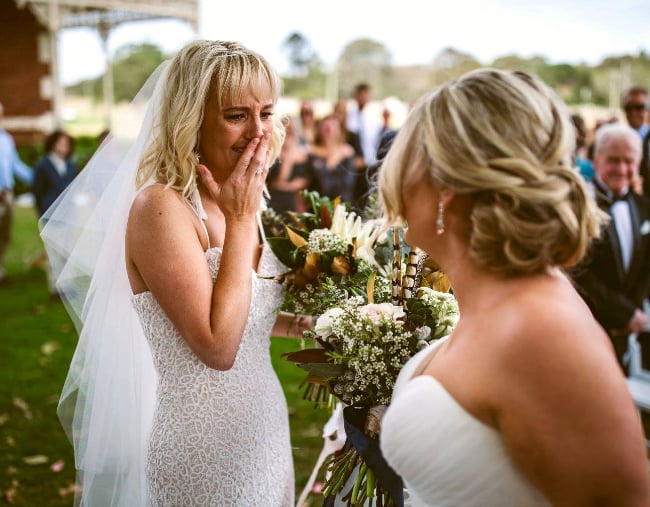 In honour of Mamamia's new wedding planning podcast Hitched, we wanted to celebrate (and perve on) YOUR weddings.
Each week, we'll deep dive into one Aussie couple's wedding day to bring you all the details about the important stuff. From the practical things like the dress and vendors to the words of wisdom they wish they'd heard before their big day, below you'll find everything you want to know.
Oh, there are lots of beautiful photos too.
This week's Wedding of the Week is Sarah and Megan's laid back party wedding which took place before Australia voted YES for marriage equality. Enjoy! Don't forget to Subscribe to Hitched here.
The basics.
Who: Sarah, 27, and Megan, 30, from NSW
Wedding date: October 7, 2017
Number of guests: 150
Wedding budget: Between $45,000 and $50,000
Photography: Scott Lahiff, The Wanderers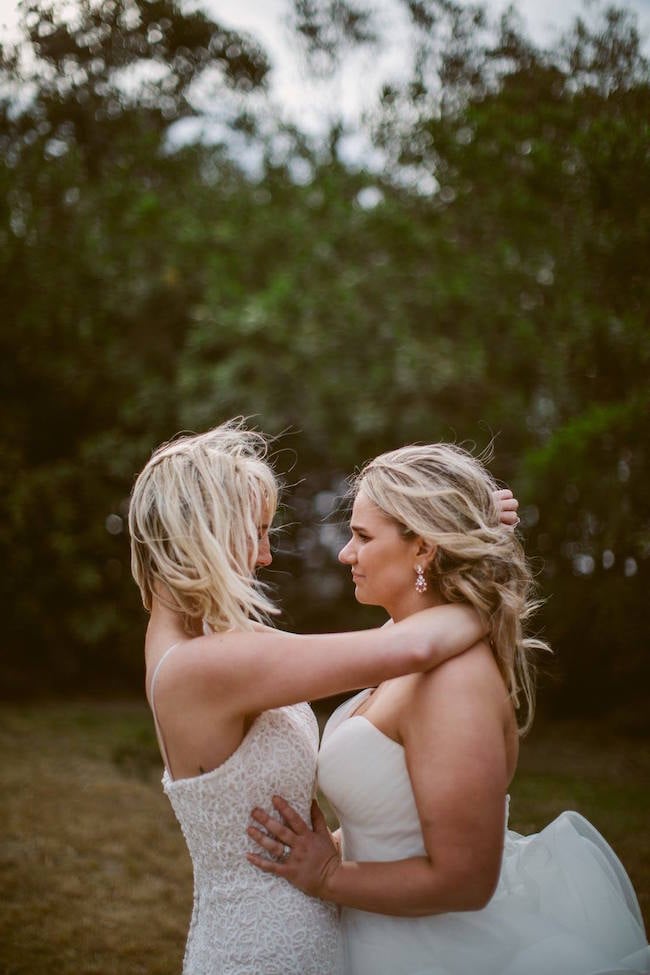 Sarah and Megan's love story.
"Megan and I met where all good love stories start… online. This was pre-Tinder days and we found each other through a poorly named lesbian-dating app called Brenda. We lived nearly four hours apart but coincidentally found out we had mutual friends. It was destiny."
"Megan and I eventually met up and hit it off so there was a lot of driving up and down the coast. Megan moved in with me over her uni holidays and then I moved to Sydney with her while she finished school. We ended up moving back to my small town in country NSW, and bought a house and are proud mothers to our baby (dog).
"I was diagnosed with Multiple Sclerosis at 19, two years before Megan and I met. It was tough dealing with it at the start. It was hard for Megan, being a nurse, and wanting to commit to me, even though she was caring for people all day, and then signing up to potentially care for me too.
"We got engaged on the October 21, 2016 and started planning our wedding about 11 months in advance. We were obviously extremely excited! To us, marriage is a face full of wrinkles from a lifetime of smiles, being the first thought in the morning and the last thought at night time. And lots of cuddles and snuggles."
The wedding dresses.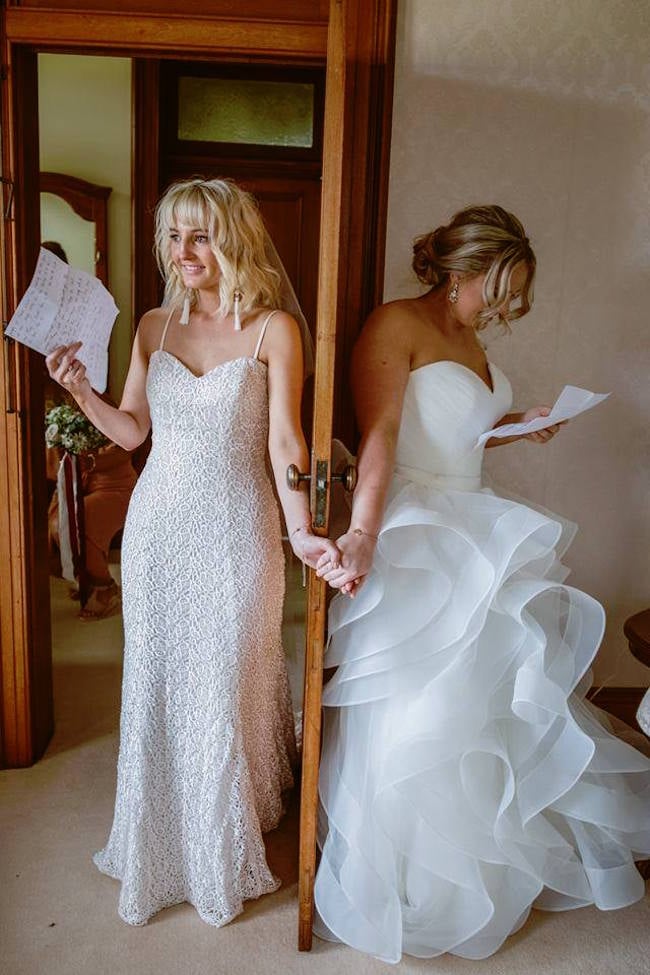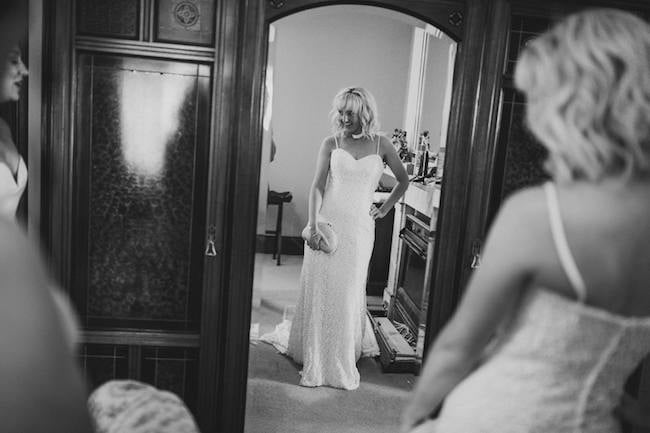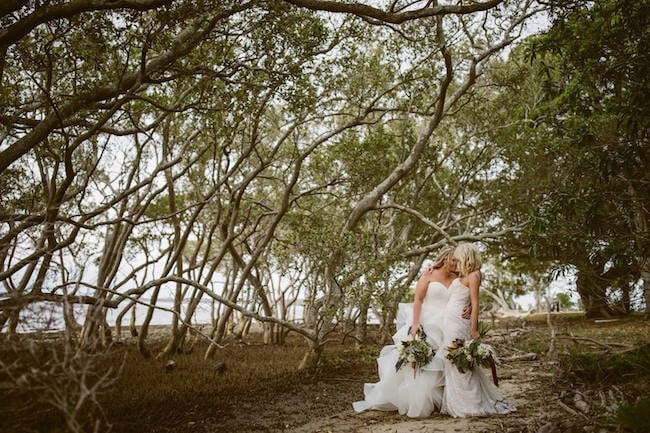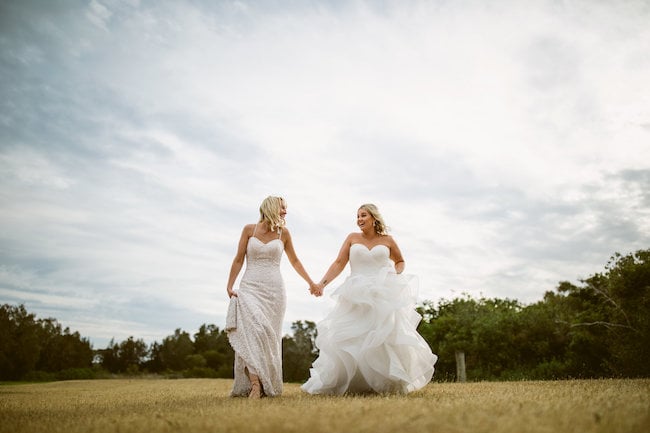 Sarah's wedding dress: Allure Bridal, Brides of Sydney
Megan's wedding dress: Atelier Rose Bridal
"I went dress shopping with my sister and cousin, it was awesome. The dress I ended up wearing was completely left field for me. My sister said I should just try it on to rule out that type of dress. But it ended up being the one I chose. We had lots of fun and lots of laughs."