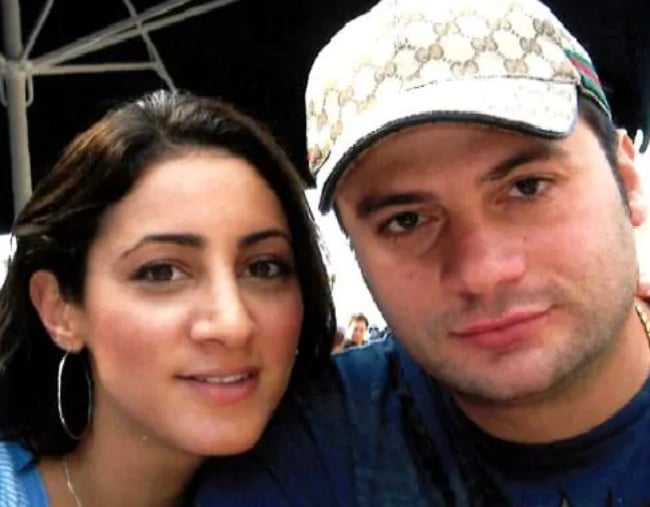 -With AAP
1. Mum recalls the moment she stabbed her partner in 60 Minutes interview.

Lena Kasparian has recalled the night she accidentally killed her partner Marc Zartarian in self-defence as her children "screamed" and tried to protect her.
On 1 May 2011 the couple were at a family party, but had to leave early because Zartarian was drunk.
Kasparian told 60 Minutes reporter Tara Brown that her partner was "out of control". Fearing he might become violent, she rushed her two children inside and told the 33-year-old to calm down outside.
Concerned that his yelling and trying to kick the door in was causing a scene neighbours would talk about, she let him in.
"I remember the look on his face it just wasn't him anymore."
Kasparian said up until that point in their 10-month relationship her partner had never been physically violent with her. That night he slapped her then grabbed a saucepan and began beating her over the head with it.
Her three-year-old son and five-year-old daughter had heard the fight and came in to try to help her.
"I'll never forget my kids screaming."
"Having my son wrapped around my leg screaming and crying and my daughter trying to protect me, kicking Marc from behind telling him, 'Leave my mummy alone.'"
When Zatarian lost his grip on the saucepan, Kasparian took the opportunity to find something to defend herself with – a knife.
"I grabbed it. Just held it up to my chest and I said, 'Stay away from me.'"
"He saw the knife in my hand. He started pacing and chest out, and he just kept saying, 'All right, stab me. Go on, stab me. Do it. Do it.'"
Kasparian said Zatarian stepped forward and the knife pierced his chest – just 14 millimetres.
"…And I think he felt some sort of cut, and we just looked at each other with this gasp."
That tiny stab wound would end Zatarian's life and change Kasparian's forever. You can read the full story here.
2. More women than men awarded Queen's Birthday top honour for the first time.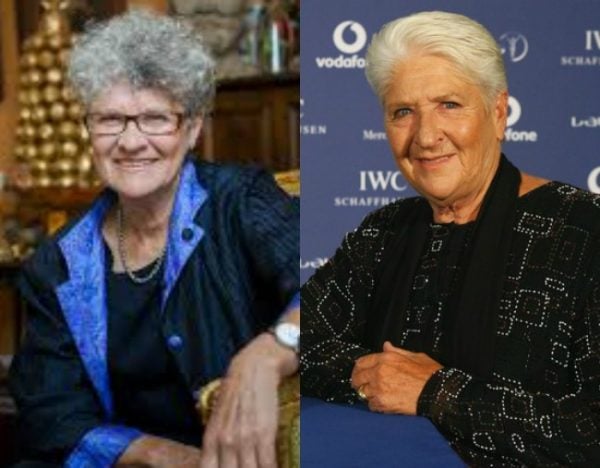 Women are for the first time outnumbering men in the list of people receiving the top Queen's Birthday Honours.
Six out of the 10 Australians being awarded the Companion of the Order of Australia (AC) on Monday are women.
Swimming legend Dawn Fraser, Federal Court judge Catherine Branson, and former Australian Nuclear Science and Technology Organisation deputy chair Erica Smyth are among those recipients.
Ms Smyth, who is being recognised for her services to the community through her roles with charities and scientific organisations, says the rise in the number of women receiving the highest honours reflects a growing appreciation of the role they play in society.
"Often what women do traditionally has gone under the radar and now we are recognising more and more that there's so much everyone in our community does to make it work and women are part of that," she told AAP.
Overall a total of 778 awards and appointments were announced in the Order of Australia's General Division.
However, fewer than half - 289 - of the total number of recipients were women.
Governor-General Sir Peter Cosgrove has led a push in recent years to encourage people to nominate more women for awards like the Queen's Birthday Honours and Australia Day awards in an attempt to end the domination of men on the lists.
Women made up just over a third of all nominations for this year's Queen's Birthday Honours, slightly more than the 31.8 per cent considered for Australia Day honours.
Nominations of women are 72 per cent higher than five years ago.
Among the 68 people being made Officer of the Order of Australia (AO), just under half were women, including Macquarie Dictionary publisher Susan Butler, author Kate Grenville, former Greens leader Christine Milne, and Business Council of Australia chief executive Jennifer Westacott.
Fashion designer Jenny Kee, Paralympian gold medalist Kurt Fearnley and comedian and writer Tom Gleisner were also among those being made an AO.
3. Heater blamed for house fire that killed a 62-year-old woman in Melbourne.
Inside the West Footscray home where a 62-year-old woman died in an upstairs bedroom this morning. Firefighters said the fire load was high due to a large amount of belongings inside. Towels over a heater are a possible cause. pic.twitter.com/fZnGO4Z4Gt

— Paul Dowsley (@pauldowsley7) June 10, 2018
A portable heater sparked a house fire in Melbourne's inner west in which a disabled woman died, authorities say.
The 62-year-old's body was found in the upstairs bedroom of the West Footscray home early on Sunday morning, while a 69-year-old resident escaped the blaze with minor injuries.
The older woman, named only as Leslie by police, is believed to have been the carer for the disabled woman, who neighbours said was called Gay.
A neighbour told journalists he tried to get into the house before helping fight the fire from outside.
"(Leslie) was just screaming that there was somebody upstairs," he said, adding Gay had been using a cane to get around.
"I don't know how the firies got up there to be honest ... (there) wasn't any clear air in there."
Leslie was taken to Footscray Hospital but left before being assessed by medical staff.
Wheelchairs were found inside the gutted home but authorities could not confirm the nature of Gay's disabilities.
An investigation into the blaze found it had been sparked by a portable heater, which is believed to have been left too close to flammable items, the Metropolitan Fire Brigade said in a statement on Sunday.
The MFB urged people to be careful when using electrical appliances, including monitoring heaters at all times and keeping them at least a metre away from flammable items such as clothing and bedding.
The blaze had been "very difficult" to fight due to a lot of furniture and other items in the home adding to the fuel load, MFB Commander Roger Chitty told reporters at the scene.
He added it was a "major concern" to find the house either had no fire alarms or they were not working.
The house is extensively damaged and police have not been able to contact Leslie.
The neighbour said the two women were active in the church, and went on a lot of overseas trips and did charity work.
"They collected stuff for church charities ... I think it was boxes of books and things," he said.
4. Kim Jong Un and Donald Trump land in Singapore ahead of historic summit.
Welcomed Chairman Kim Jong Un, who has just arrived in Singapore. pic.twitter.com/ZLK4ouIejx

— Vivian Balakrishnan (@VivianBala) June 10, 2018
The stage is set for the summit in Singapore between US President Donald Trump and North Korean leader Kim Jong Un that could lay the groundwork for ending a nuclear stand-off between the old foes and the transformation of the isolated Asian nation.
When Trump and Kim meet at 9am local time on Tuesday at Sentosa, a resort island off Singapore's port, they will be making history.
Trump flew into Singapore's Paya Lebar Air Base on Sunday aboard Air Force One. He came from a divisive G7 meeting in Canada with some of Washington's closest allies that further strained global trade ties.
Trump was greeted by Singapore Foreign Minister Vivian Balakrishnan.Asked by a reporter how he felt about the summit, Trump said: "Very good".
North Korea's Kim landed in Singapore earlier on Sunday.
Kim arrived at Singapore's Changi Airport after his longest trip overseas as head of state. He has not left his country since taking office in 2011 other than to visit China and the South Korean side of the Demilitarised Zone on the border.
Arriving on a plane loaned by China, Kim was also greeted by Balakrishnan.
Travelling with him were top officials including Foreign Minister Ri Yong Ho and Kim Yong Chol, a close aide of Kim who has been instrumental in the diplomacy that culminated in Tuesday's summit.
Kim Yo Jong, leader Kim's younger sister, was also spotted in his delegation. She led a North Korean delegation to the Winter Olympics in South Korea.
Officials who arrived with Trump include Secretary of State Mike Pompeo, National Security Adviser John Bolton, White House Chief of Staff John Kelly and White House Press Secretary Sarah Sanders.
Trump initially touted the potential for a grand bargain with North Korea to rid itself of a nuclear missile program that has advanced rapidly to threaten the United States.
But he has since lowered expectations, backing away from an original demand for North Korea's swift denuclearisation.
He has said the talks would be more about starting a relationship with Kim for a negotiating process that would take more than one summit.
White House spokeswoman Sarah Sanders said US and North Korean officials would hold working-level talks on Monday. She said the US delegation would be led by Sung Kim, a veteran diplomat who recently held talks with North Korean officials.
Kim met Singapore Prime Minister Lee Hsien Loong shortly after his arrival, driving from the St. Regis Hotel where he is staying, through the famous Orchard Road shopping district, which was closed off for his tightly guarded motorcade.
Bodyguards in dark suits jogged alongside his limousine.
At the hotel lobby, grim-faced North Korean security guards warned other hotel guests not to take pictures as Kim walked to his Mercedes Benz limousine.
When a couple of guests took a picture, a North Korean official stormed up to them, demanding to check their phones.
"I saw them taking a photo of our chairman. How dare they do so, they shouldn't," the official told Reuters later. Under the watchful eye of the official, and St. Regis staff, one male guest deleted his photos.
Trump, who is staying in a separate hotel, the Shangri-La, is due to meet Lee on Monday.
5. Fleetwood Mac guitarist Danny Kirwan dies.
Former Fleetwood Mac guitarist Danny Kirwan, who appeared on five of the band's albums, died in London, the band said. He was 68. https://t.co/B6iorsSSr6 pic.twitter.com/ZiqPKpZD8W

— CNN Breaking News (@cnnbrk) June 9, 2018
Mick Fleetwood says former Fleetwood Mac guitarist Danny Kirwan has died at age 68.
Fleetwood says in a Facebook post that Kirwan died Friday in London. No cause of death was given.
Kirwan was part of the iconic band from 1968-1972, playing on the albums Then Play On, Blues Jam at Chess, Kiln House, Future Games and Bare Trees.
Fleetwood writes that Kirwan's legacy "will forever live on in the music he wrote and played so beautifully as a part of the foundation of Fleetwood Mac".
Kirwan was among the eight members of the band - along with Fleetwood, Stevie Nicks, Lindsey Buckingham, Peter Green, John McVie, Christine McVie and Jeremy Spencer - who were inducted into the Rock & Roll Hall of Fame in 1998.