Although society's understanding and awareness of mental illness has come a long way, there are still a lot of misconceptions surrounding the medications that are used to manage it. Take, for instance, the belief that anti-depressants will drastically alter your personality or become addictive.
On topic of this, the way popular culture depicts "meds" and the people who take them can be equally problematic and stigmatising, especially when it comes to women.
Actress and author Lena Dunham has taken aim at these negative stereotypes, using Instagram to deliver an important reality check about living with and managing mental illness.
"Lately I've been noticing that nearly every pop cultural image we see of a woman on psychiatric medication is that of an out-of-control, exhausting and exhausted girl who needs help," the Girls writer and star wrote.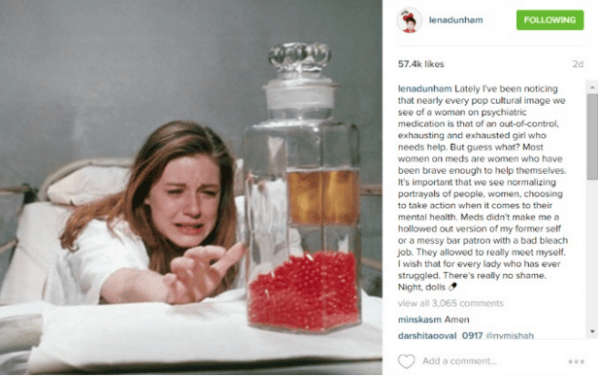 "But guess what? Most women on meds are women who have been brave enough to help themselves. It's important that we see normalising portrayals of people, women, choosing to take action when it comes to their mental health."
This is an issue that's particularly close to Dunham's heart.
The 29-year-old has openly discussed her experiences with OCD and anxiety in the past, and frequently acknowledges that a combination of prescribed medication (Lexapro and Klonopin in her case), therapy and physical exercise has allowed her to manage the symptoms.
As she explained in her Instagram caption, taking medication hasn't altered her personality — to the contrary, it's significantly improved her quality of life.
"Meds didn't make me a hollowed out version of my former self or a messy bar patron with a bad bleach job. They allowed to really meet myself," Dunham explains.
"I wish that for every lady who has ever struggled. There's really no shame. Night, dolls."
Watch: Jessica Rowe reflects on her experience of post-natal depression. (Post continues after video.)
To hammer the point home, Dunham then posted a photo of her tongue dotted with the meds she uses for her anxiety.
Unsurprisingly, her followers appreciated the Not That Kind of Girl author's honesty and advocacy.
"Thank you. I'm on medication too and lately being more open about it because I'm sick of negative stereotypes," one commented.
"I think it's so cool that you're speaking up for those of us that take medication. I suffered from depression and self medicated with drugs for years. It wasn't till I got help and started taking proper medication, that I was able to get clean and have a good life," another added.
Brava, Lena.
This post originally appeared on The Glow. 
Thank you - just by clicking on this and other content on Mamamia, you are helping to fund education for some of the world's most disadvantaged girls.
Together with our commercial clients and charity partner Room to Read, Mamamia's goal is to be funding 1,000 girls in school each and every day, by June 2020.
Learn more here about our ongoing mission to make the world a better place for women and girls.