Sylvia Bloom had spent 67 years working as a legal secretary for the same Wall Street law firm.
The 96-year-old, who died in 2016, was the firm's longest ever serving employee, and lived a quiet life in Brooklyn with her husband Raymond Margolies, who passed away in 2002.
But Sylvia – who was the unassuming daughter of eastern European immigrants and went through America's public school system – concealed a side of herself from all those who knew her.
Despite her modest salary, and renting a small apartment, her will proved Sylvia Bloom was a very rich, self-made woman. A woman who, in death, cemented herself as one of the biggest philanthropists of her community.
Sylvia's US$6.24 million donation to a local social service group, Henry Street Settlement, which helps disadvantaged students prepare for and complete tertiary education, was publicly disclosed last week, two years after her death.
While a small amount of the woman's US$9 million riches will be given to family and friends, a profile written by The New York Times' Corey Kilgannon reports the bulk of it has been donated to a cause close to her heart; education.
"[It was] an oh my God moment," niece Jane Lockshin, the executor of Sylvia's estate, told the publication about the discovery.
"I realised she had millions and she had never mentioned a word. I don't think she thought it was anybody's business but her own."
It appears that for the decades she managed the lives of her wealthy bosses, including their personal finances, Sylvia took notes of what investment decisions they made, and would copy them for herself – albeit on a smaller scale – once she was home.
Despite her secret wealth, Sylvia was renowned for taking public transport to work. Even in the days leading up to her retirement, she made her usual trip to work in the middle of a snowstorm.
"I said, 'What are you doing here?' and she said, 'Why, where should I be?'," Paul Hyams, a longtime friend and HR executive at the law firm Sylvia served for so long, said.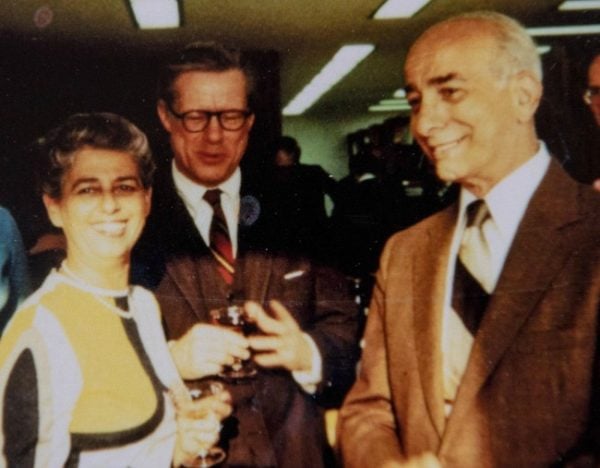 Even when she married, Sylvia decided to keep her surname, something her family says was indicative of her head-strong, independent nature.
She also didn't have any children of her own.
Most curiously, the vast majority of the money was in Sylvia's name only - pointing to the "very possible" chance that for the entirety of their marriage, her husband had no clue how wealthy his wife was.
"She was a child of the Depression and she knew what it was like not to have money," Paul Hyams said.
"She had great empathy for other people who were needy and wanted everybody to have a fair shake."
You can read The New York Times' incredible profile on Sylvia here.