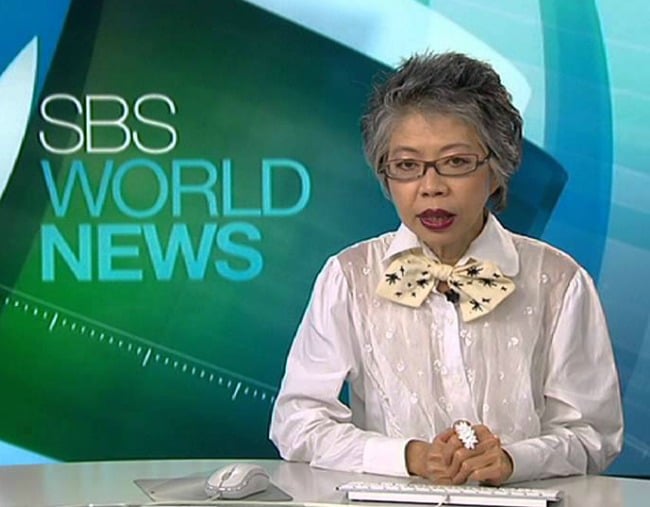 Sunday night will mark the end of an era.
Lee Lin Chin will read her final news bulletin for SBS News.
For more than 40 years, Lee Lin has been a household name in Australia and a trusted voice in news.
She's been the much-loved face and voice of weekend World News SBS, but now she's decided to call it a day.
On Thursday, she spoke Sandra Sully at TEN Daily about her decision.
"It has been something I've considered for a number of years now. I thought SBS would just fire me one day so I'd never have to make the decision, they obviously didn't and in fact offered me a two year contract extension at the start of the year. So I had to start considering it a lot more seriously," she told Sully.
The veteran newsreader told Sully there wasn't a specific reason she was leaving the job, but a bunch of "small to medium reasons" which she might share one day.
Lee Lin said it was a difficult decision to make because of the support she constantly receives from her huge fan base.
"Having spent the bulk of my professional life at SBS, this isn't by any means an easy decision. I shall be leaving a happy and satisfying role as a newsreader. My friends and
colleagues for whom I have fervent respect will be deeply missed," she said in a statement released on Thursday afternoon.
While Lee Lin is known for her serious nose for news, many are also drawn to incredible sense of humour.
She's been making people laugh on Twitter for years now and her popularity grew so rapidly she was even nominated for a Gold Logie last year.
Longtime SBS newsreader, Anton Enus, will be returning to the network to read two bulletins a week. Anton left SBS two years ago to undergo treatment for bowel cancer.
Next, Lee Lin plans to create comedy TV shows with her production company, All The Chin's Men.
Oh, and she might make a podcast.
You can read Sandra Sully's full interview with Lee Lin Chin on TEN Daily.