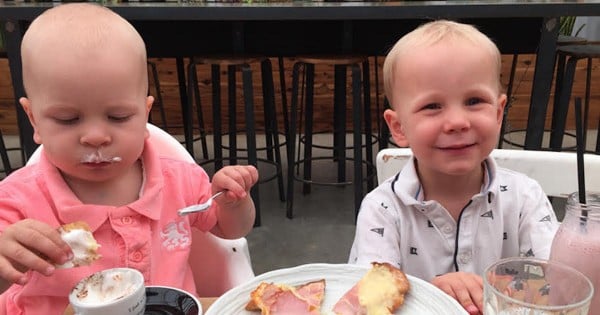 My 20-month-old started talking in sentences this week.
He ran up to me and said, "Mum, I did a poosie!" while pointing to his hardworking nappy. It certainly wasn't the most literary choice for a first sentence but I couldn't help scooping my smelly toddler into my arms and dancing around the living room to celebrate this developmental milestone.
As I caught a glimpse of my Beyonce-inspired moves in the mirrored splashback, I started thinking about how my children's development has encouraged my own.
Patient. Mindful. Fun. These aren't adjectives I would readily associate with my pre-baby self. Career-focused and insecure, I wore myself ragged head-butting the glass ceiling and leaned in so far I frequently face-planted.
Then I had kids and they opened up a new world of joy, chaos and love. I've watched with baited breath as they learned to roll, then sit, crawl then walk. I've listened attentively for their first words; secretly hoping it would be "mum" (it was "car" and "no").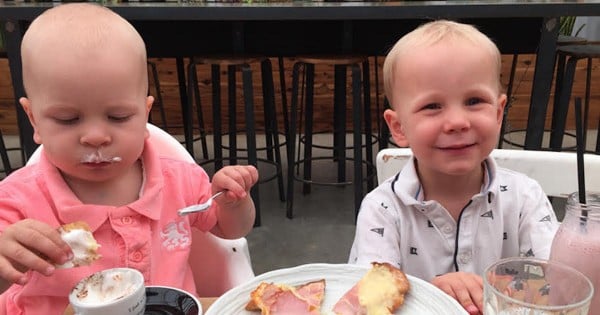 "Then I had kids and they opened up a new world of joy, chaos and love." Image: supplied.
As a toddler and preschooler now, I watch them argue, negotiate, fight then cuddle and I realise how much they have taught me about being a more well-rounded person.
As a working mum in the final stages of completing a Masters degree, things can get hectic. This week I considered deferring one of my subjects as it all felt too hard. But then I remembered the calm persistence frequently demonstrated by my three-year-old, Max.
After receiving his new sets of Duplo for his birthday, he patiently built a train. When his baby bro bulldozed it with one swing of his chubby arm, Max howled about the unfairness of life and I expected him to give up on his career in construction. Minutes later, he collected all the bricks and started again while reprimanding his brother if he got too close. Watching him start from scratch and seeing the joy on his face when his train stood strong was a lesson in not giving up on something important to you. Long story short, I am totally going to nail this final semester.