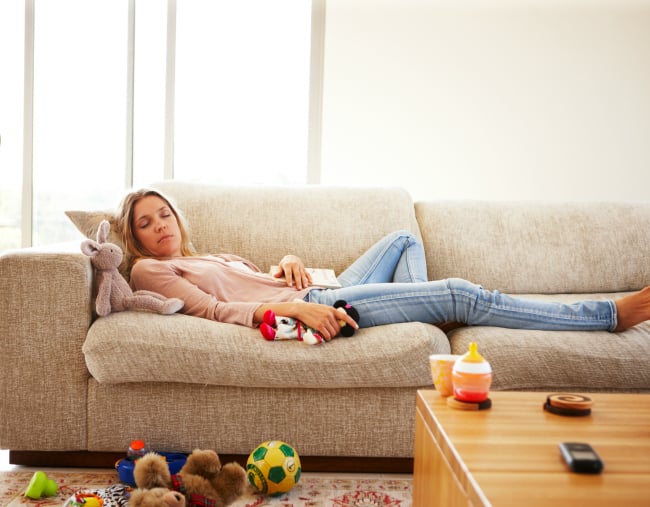 'What is baby-led weaning?,' my daughter Sarah asked me.
It's what I did with you, except there wasn't a name for it then, I told her. I just popped some food on your high chair tray and you helped yourself.
What? You mean, you didn't even FEED me?
I laughed, "look at your baby photos –I think somebody must have fed you." (She was a deliciously chubby bubba).
Sarah was our fourth baby. By then I had whole-heartedly embraced a philosophy of 'lazy parenting.' Or, as I liked to call it with her older siblings, 'benevolent neglect.'
With my first baby, I had tried to follow 'the rules'. When he started 'solids', the advice was to start off with baby cereal. So I bought a box. I squirted breast-milk onto the recommended teaspoon of cereal. I made it too runny so I added more cereal, then it was too thick so I squirted more breast milk, then it was too runny.
Eventually I had almost a bowl full of perfectly mixed cereal – which my baby promptly spat out. Even though the cereal didn't work out, I still lovingly pureed fresh fruits and steamed vegetables, especially for him. It simply hadn't occurred to me that he could eat the same foods we were eating.
That is until we were staying with my grandparents and my Poppa handed him a drumstick from the roast chicken. How that kid loved feeding himself! Aha – no more fiddling and fussing with 'baby' food. Ever. Again.
As my babies grew, my approach was that it was my responsibility to provide healthy food and it was their choice whether to eat it or not. I didn't cook special meals – hell, I'm not a short order cook. If you don't like it, leave it. If they didn't eat dinner, they could have something completely boring, like a vegemite sandwich , if they felt hungry later. No food fights, no power struggles about food and nobody seemed to go to bed hungry.