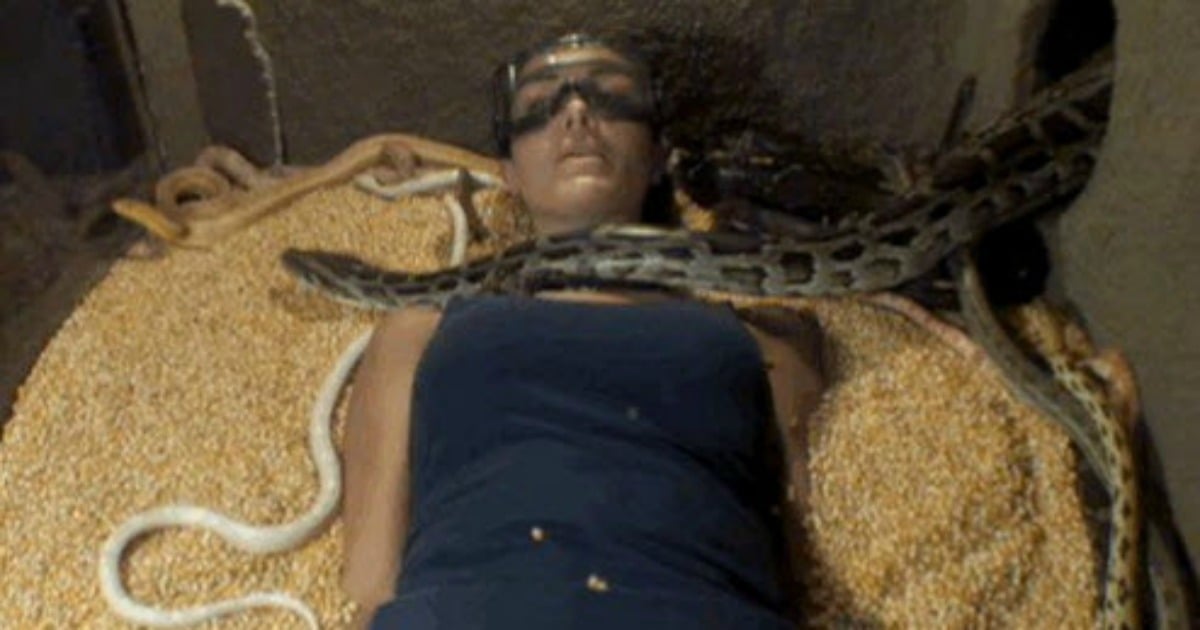 A dirty street pie? I don't think so, buddy. A pit full of snakes? No problem.
Slammed just days ago for her princess-like refusal to eat a festering rotten bulls eye, maggot combo from an oyster shell, Laurina Fleure has just proved her mettle and won the hearts of the entire internet.
Who knew all the former Bachelor beauty had to do was let some snakes have sex on her?
Yep, it's still the first week of I'm a Celebrity… Get Me Out of Here! and Laurina has already smashed the lying-in-a-pit-full-of-40-odd-snakes challenge.
Someone just hand her the trophy (or whatever you win at the end of this show), already. (Post continues after video. Courtesy of Channel 10)
Not knowing what she was to face, Laurina was keen to cover up her body, but Dr Chris Brown told her it would be a bad idea should the surprise critters become stuck in her clothing. So, like the absolute champ she is, she braved the unknown in a singlet top, remaining incredibly calm thanks to her mantra: 'I am peaceful, I am powerful, I am pure.'
It must have been what got her over the line with the extra challenge of blocking out Dr Chris' helpful commentary, which included: "There's a big one that looks like he wants to own you." Thanks, Chris. Not only did she prove she was a cool, calm, boss lady and not the sook everyone thought she was, she also managed to win 12 meals for the camp. And, apparently, the respect of the entire Twitterverse:
I am in love with #Laurina on #ImACelebrityAU right now! Brilliant!!! — scottsco (@notscott_) February 4, 2016
Hmmm … Now where did Laurina learn to cope with a pit of vipers who could attack at any moment? #ImACelebrityAU pic.twitter.com/yG8KeaCl7Y — Dee Dee Dunleavy (@DeeDeeDunleavy) February 4, 2016