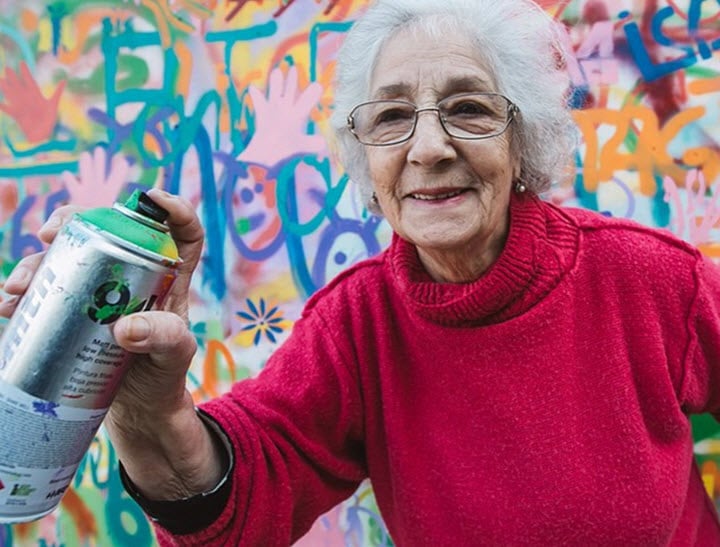 Graffiti is the new bingo, apparently.
Welcome to Mamamia's art endeavour, the Voulez-Vous Project. Every week we celebrate emerging artists, designers, illustrators, creators and cats who dress like their owners (not joking). Our aim: to help the internet become a slightly more beautiful, captivating, or thought-provoking place by making art accessible.
To find out more about the Voulez-Vous project, click here. Click here to see all the previous Voulez-Vous posts.
Elderly men and women are taking to the streets of Lisbon, Portugal with spray cans in the name of creativity.
The street art is encouraged and organised by a company called LATA 65, a non-profit group that wants to redefine the stereotypes around age and creativity.
First, there's a workshop. The students, the bad-ass elderly men and women, create designs from stencils and then flood the run-down parts of the city with their art.
Spray cans meet neglected, forgotten areas of the city, resulting in colourful, wonderful street art.
The organisation's mission is to reconnect the elderly with "young" people while allowing them to experience some contemporary art.
For more on the company, you can find their website by clicking here and their Facebook here.
Click through the gallery below for photos of the street art. All photos via LATA 65 on Instagram.