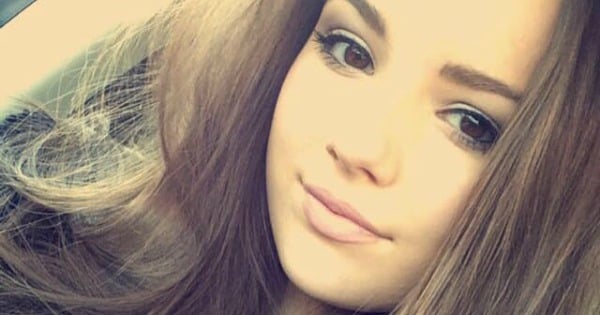 Content warning: This post deals with suicide and domestic violence, and may be triggering for some readers.
In March 2016, 18-year-old Emily Drouet died by suicide after suffering months of abuse at the hands of her boyfriend, Angus Milligan.
Now a photo has emerged of Drouet and Milligan together on her 18th birthday – just weeks before her death.
The photo, taken at an Aberdeen nightclub in Scotland, shows the 18-year-old law student in the arms of her tormentor.
In the months leading up to the photo – and the weeks that followed – Milligan regularly slapped, choked, bullied and tormented his girlfriend.
Drouet's mum, Fiona, told the The Mirror the photo makes her feel "ill".
"It tears me apart when I see it. He looks like a monster and Emily doesn't even look like herself. I hate it, but I think it shows him for what he is."
Drouet, 45, said her daughter had been "so happy" when she was getting ready for the party they had organised for her, taking photos while she was getting her makeup done and sending them to her mum.
"Knowing what we do now about what he had been doing to her, it makes me sick."
Last week, Milligan was sentenced to just 180 hours of community service and a year's supervision order after he admitted to the ongoing verbal and physical abuse.
In a cruel twist of fate, Drouet's parents had to sit in the courtroom as Milligan's lawyers tried to argue that his abuse was a result of Emily being unfaithful to him.
"It was the lowest of blows," Drouet's mother told the The Mirror. "Emily was the victim of sustained abuse and bullying by Angus Milligan when she was alive and it feels like he has been allowed to bully her all over again in death. It's sickening.