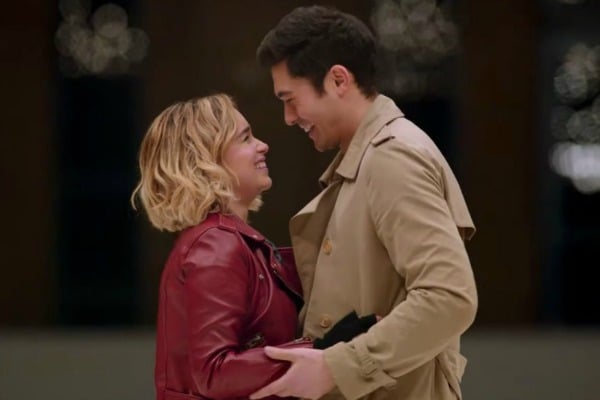 All our Christmas wishes have come early.
There's an adorably British Christmas rom-com hitting our screens this festive season and move over Love Actually, it looks set to be a bloody classic.
Okay, we take that back. There may never be a Christmas film better than Love Actually, but it does feature Emma Thompson and is set in London, so we can already tell it'll be up there on the top-shelf of Christmas films somewhere between The Holiday and Bridget Jones's Diary.
In both their Christmas rom-com debuts (which we understand to be a career highlight for anyone in the film industry), it stars the Queen of Dragons herself, Emilia Clarke, and everyone's imaginary husband, Henry Golding.
Watch the trailer for Last Christmas below. Post continues after video
Last Christmas, inspired by the Wham! classic of the same name, follows the story of Kate, a loveable hot mess who works in a Christmas decoration shop somewhere in London and seemingly causes chaos wherever she goes, but in an adorable, Emilia Clarke-esque way, of course.
In a meet-cute involving bird sh*t in Kate's eyeball, Tom (Henry Golding) walks into her life, and he's just as nice as he is handsome. A Christmas miracle.
Not only does it sound all heartwarming and romantic and adorable, it features unreleased music by George Michael (!!!).
Directed by Paul Feig, the man behind A Simple Favour and Bridesmaids, it co-stars Michelle Yeoh and the brilliant Dame Emma Thompson, who actually wrote the screenplay for the film alongside playwright Byrony Kimmings.
Emma Thompson? George Michael songs? Christmas? It's like all our cinematic dreams have come true.
But in case you weren't already assembling your pals in the group chat to pre-book tickets as soon as they're released, here are five details from the trailer we simply can't get enough of:
1. Henry Golding.