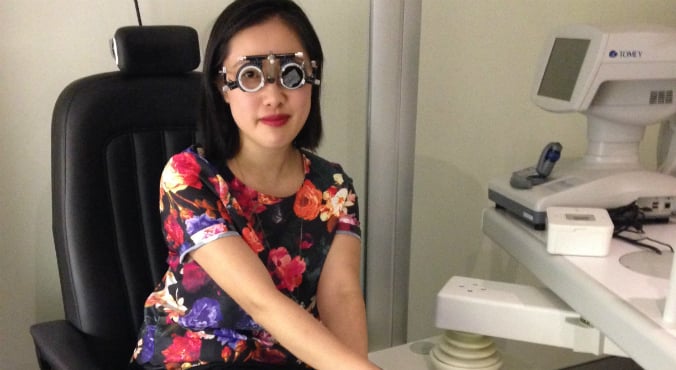 Image: Carla having her eyes tested, and looking pretty damn hot in the process.
"Enough is enough."
That's what I said to my glasses, which I've worn since kindergarten.
I'm in my early thirties, and all of a sudden it feels like everything is just wrong with my glasses. They seem constantly smudgy, no matter how often I clean them. The weather is never right: raindrops splatter on the lenses, and when it's sunny, I'm playing the on-off juggling game between my prescription sunglasses and usual specs.
RELATED: These are the most popular plastic surgery procedures in Australia's capital cities.  
When you wear glasses for almost your entire life, you reach a certain age when you're just… over it. Laser eye surgery became enticing, and I wanted to know everything about it. I booked myself in to see Dr Con Moshegov, a Sydney-based ophthalmologist and clinical lecturer at Sydney University who's also a laser eye surgeon.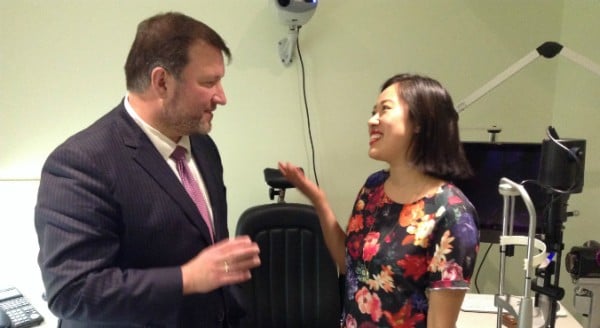 I want to get laser eye surgery, but I'm really scared. Can you give me some advice?
"First of all, I understand and empathise. Vision is the most important of senses, and the eyes are so delicate," Dr Moshegov says. He's spent time on the other side of the laser, having his own vision corrected, so he knows from experience what it feels like.
RELATED: The 7 essential makeup rules for women who wear glasses
"Laser eye surgery is not new. It's been performed since the late '80s. We have many, many, many years of experience, and we know that it's an incredibly safe procedure. No-one has lost their sight from iLasik [the newest form of laser eye surgery], certainly not in Australia. I always give the patient time to think about it, and never push."