A tenant remains in shock after security cameras captured his landlord having sex on the bed he shares with his wife.
(Related content: Renting in Australia? Know your rights.)
Logan Pierce, from Colorado Springs in the US, was at work when his security system began sending him notifications of sensed activity.
"I got a notification from one of the cameras on lunch the other day that it detected noise and was strange because both of us work all day everyday," Pierce told 11 News.
"I opened up the camera and kind of had to like quit the program and, like, restart it again because I didn't really believe what I saw."
The footage clearly captured landlord, Carlos Quijada, entering the apartment before engaging in sexual activity.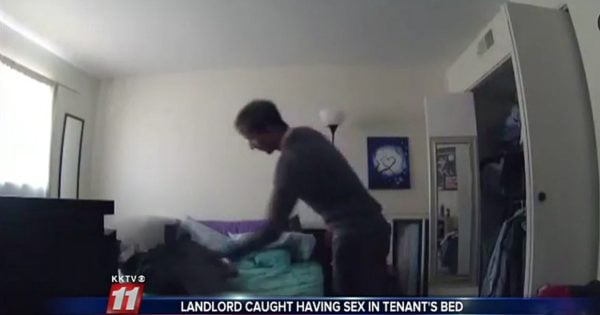 Pierce told the news network that Quijada had even used his wife's wedding dress to clean up afterwards.
"Now that's gone because the police took it for DNA testing," he said.
The young man called his wife before phoning the police to tell her what he'd witnessed.
"I said 'Honey, I think we need to move, like, immediately'," he said.
Pierce said he continued to feel the impact of the unbelievable events.
"It was like a total violation of privacy. Just to have somebody to come in unannounced is enough, but ... then go forth with sleeping with somebody on your bed while you're not there. It was scary," he said.
Lieutenant Howard Black with the Colorado Springs Police Department told 11 News entering a tenant's apartment without notice was legal but there were limits to what they could do once inside.
"Obviously landlords don't have the ability to go into tenant apartments and do whatever they want to do," he said.
A warrant has been issued for the arrest of Quijada for misdemeanor obscenity and criminal trespassing.
Thank you - just by clicking on this and other content on Mamamia, you are helping to fund education for some of the world's most disadvantaged girls.
Together with our commercial clients and charity partner Room to Read, Mamamia's goal is to be funding 1,000 girls in school each and every day, by June 2020.
Learn more here about our ongoing mission to make the world a better place for women and girls.