The NFL Super Bowl halftime show is one of the biggest stages in the world for a recording artist. A chance to express themselves to 100 million people at once, to exercise influence and broadcast a message beyond the typically commercial.
There was Will.I.Am addressing a verse of Where is the Love to President Obama in 2011, and Madonna ending her performance with a call for "world peace" in 2012.
After Beyoncé dressed her dancers in Black Panthers regalia last year and attracted criticism for over-politicising her performance, 2017's halftime star, Lady Gaga, inherited especially cautious event organisers and calls to 'play it safe'.
But as a staunch Hillary Clinton supporter, as a vocal advocate for victims of sexual assault, as a woman who climbed tearfully on the side of NYC garbage truck outside Trump Tower to raise a sign reading "Love Trumps hate", as a star who has openly criticised the newly inaugurated President, the 30-year-old wasn't expected to toe the line.
After all, conformity is just not her style.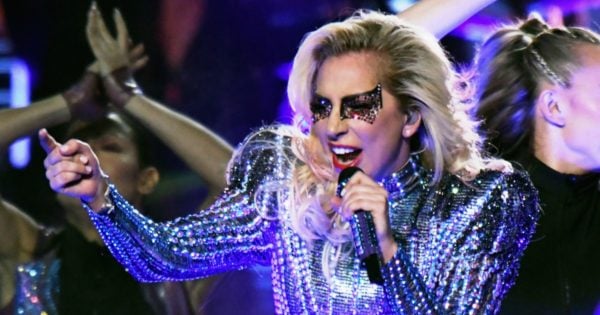 But there were no outraged asides, no placards, no protests in today's show in Houston. Not overtly at least. Instead the pop superstar relied - as she always has - on her lyrics to get her point across.