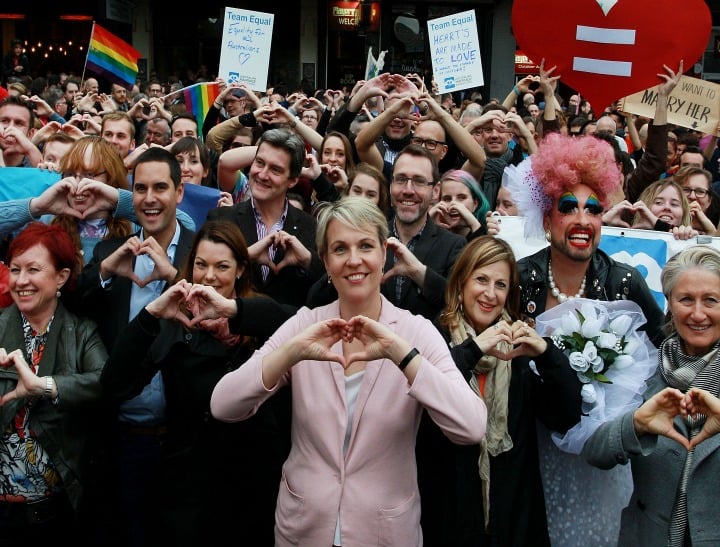 We've rounded up all the latest stories from Australia and around the world – so you don't have to go searching.

1. Same-sex marriage bill to go before Parliament today.
A bill by Opposition Leader Bill Shorten and deputy leader Tanya Plibersek to legalise same-sex marriage will be tabled in Parliament today, but the Government is not expected to support it.
Instead, the Coalition is planning to negotiate for a new bill of its own, co-sponsored by the Labor Party.
Mr Shorten will tell parliament when he introduces the bill that marriage equality will tell all gay, lesbian, bisexual, transgender and intersex Australians "your relationship is equal under our laws''.
"We can declare, in the house of the Australian people: it's time. Time to make marriage equality a reality,'' he will say.
The Labor party bill says that church would be asked to solemnise a marriage between two men or two women.
It will remove the definition of marriage as being between a man and a woman and replace it with being between two people.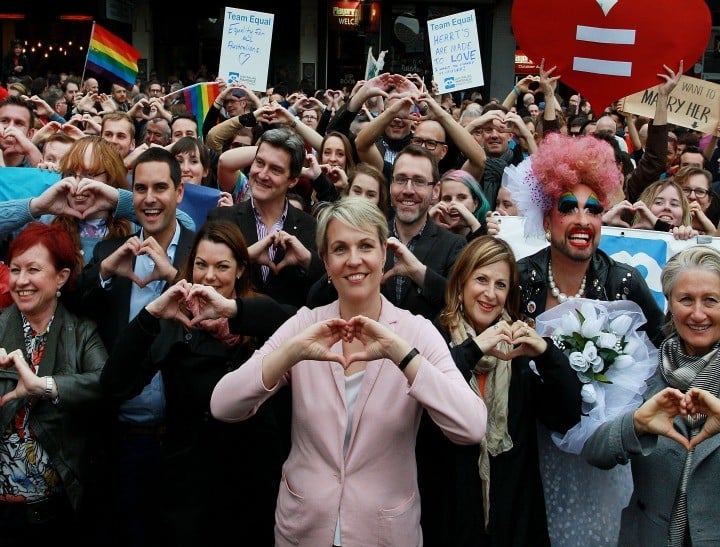 Mr Shorten has called for a Liberal MP to co-sponsor his bill, but the Prime Minister has made it clear that instead he wants a cross-party bill to be introduced saying last week the issue had to be "owned by the whole parliament."
The Australian reports that Queensland Liberal MP Warren Entsch will hold talks with all parties in the next few weeks to try and obtain cross-party support for a marriage-equality bill that could be introduced in the spring sittings after the budget is passed.
The Green's Leader, Senator Richard di Natale has said that it is important to have one common piece of legislation.
"Having individuals going it alone now, having the Opposition Leader going it alone, would be a mistake," Senator di Natale said.
"I just hope that he recognises that here's an opportunity to have a rare moment of unity.
"Let's put the competing bills behind us, let's have one piece of legislation that we can all get behind.

2. A thousand people attend same-sex marriage march.
More than 1000 people marched in Sydney at a marriage equality rally, held yesterday.
The Prime Minister's sister, Christine Forster spoke to the crowd introducing her "beautiful fiancee", Virginia Edwards, asking, "Why wouldn't I want to marry this beautiful woman as soon as I possibly could?"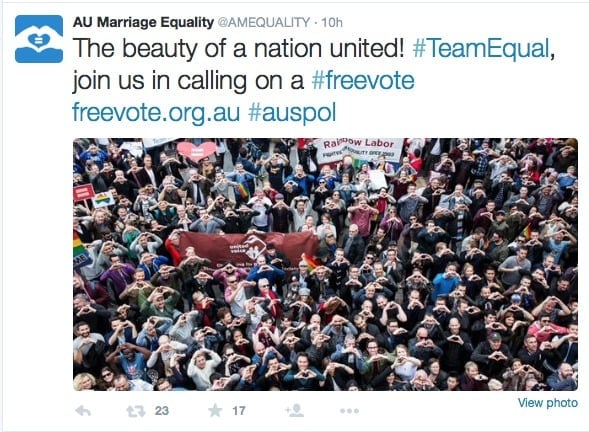 Deputy Opposition Leader Tanya Plibersek backed Ms Forster's call for a bipartisan approach to the issue.
"This is the last piece of unfinished business to full equality for gay men and lesbians in this country," Ms Plibersek told the rally.
"As one of our great prime minister's [Gough Whitlam] said: 'men and women of Australia – it's time.'"

3. Victorian government calls for domestic violence reforms.
In a submission to the Royal Commission into Family Violence in Victoria, the State Government has called for family violence to be made a specific crime.
The Herald Sun reports that the Government has also called for a dangerous partners' register, similar to one raised by the NSW government in a discussion paper last week.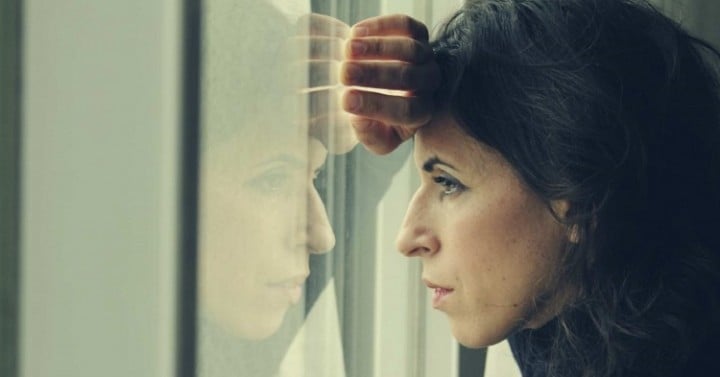 The Victorian submission identifies 10 key gaps that need to be urgently addressed, including "weak'' legal consequences for perpetrators.
"Domestic abusers are not being sent a strong enough message by the law" the report says.
"We need to strengthen our legal response to perpetrators so that it is clear to people doing the wrong thing that the community condemns their behaviour and that they will be held to account,'' says the submission.
"Family violence intervention orders are breached too often and victims and stakeholders feel that penalties are not matched to the severity of the perpetrators' behaviour."
The Royal Commission will hand down its findings in January.

4. Cardinal Pell should be moved aside and sent back to Australia.
There are calls for Cardinal George Pell to step down by a senior Vatican official who has told 60 Minutes that Cardinal Pell's position was "untenable".
Peter Saunders, a top advisor to the Pope, and a child abuse survivor himself has told 60 Minutes reporter Tara Brown that George Pell's repeated denials concerning his knowledge over the occurrence of child abuse in the Catholic Church "cold" and "callous".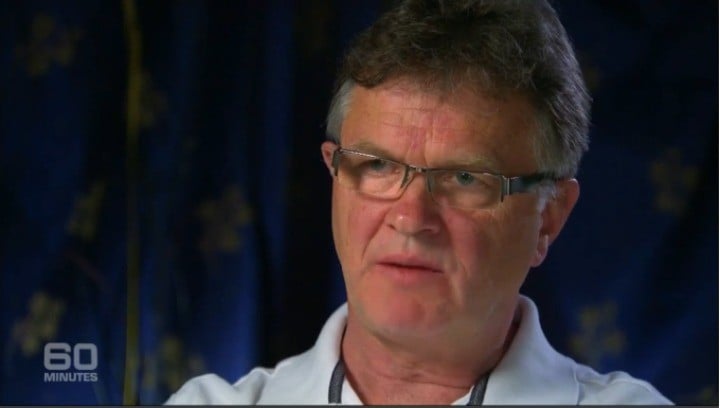 "I personally think that his position is untenable. Because he has now a catalogue of denials – he has a catalogue of denigrating people, of acting with callousness, cold-heartedness.
"[It's] almost sociopathic, I would go as far to say, this lack of care," Mr Saunders said.
Mr Saunders said Cardinal Pell is a "massive thorn" on the side of the papacy of Pope Francis.
"I think it's critical that he is moved aside, sent back to Australia, and [that] the Pope takes the strongest action against him.
"That man has at least a moral responsibility to fly straight back and to tell the royal commission everything he knows – everything he knows in order to allay the fears that many victims and survivors feel, which is that he's avoiding facing some very, very difficult truths, which is his past behaviour," Mr Saunders said.

5. Woolworths card glitch leaves customers furious.
Supermarket giant Woolworths has had to cancel over $1million worth of gift cards after almost 8,000 codes and customer's data were sent in a spreadsheet to 1,000 people.
The spreadsheet with a downloadable link to 7,941 vouchers were worth $1,308,505 — and anyone who got the email was able to access the cash, Fairfax Media reports.
When customers tried to spend the gift cards they found they had already been used.
The cards had been sold last week by online savings site Groupon, which ran a deal last week offering BIG W eGift cards, valued at $200 and $100, at a 7.5 per cent discount.
Customers who paid for the cards were then sent a link to an electronic voucher.
100 people however were sent the excel spreadsheet containing the links to over $1 million worth of vouchers.
Woolworths told Fairfax Media: "Woolworths takes the concerns of its customers and data security seriously,"
"We experienced a technical fault with an e-voucher offered to customers this week. We are working to resolve the issue and are assisting customers."
6. Start trying for a baby by the age of 30.
A top British doctor has said that women who wish to start a family should start trying for a baby before they turn 30, and has urged fertility lessons to be included for teenagers in the national curriculum.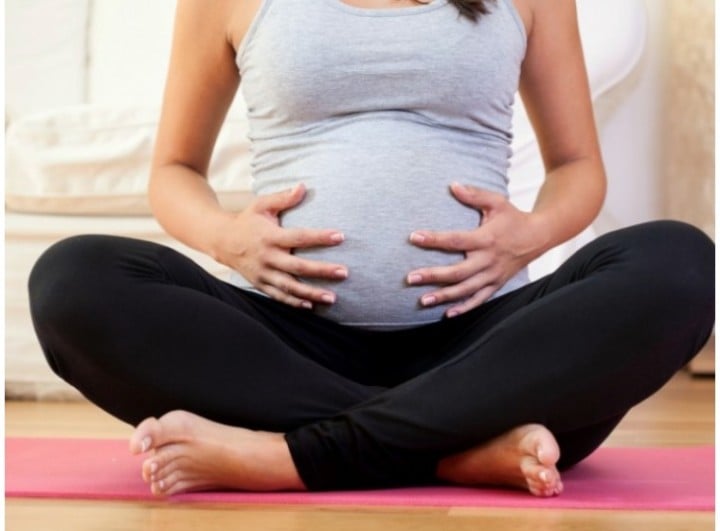 She said teaching young women about the dangers of delaying parenthood would "empower people to take control of their fertility".
Consultant gynaecologist Professor Geeta Nargund has written to British Education Secretary Nicky Morgan saying that fertility issues were placing a "costly and largely unnecessary burden on the NHS". She said increasing numbers of women in their 30s and 40s were seeking IVF treatment.
"I have witnessed all too often the shock and agony on the faces of women who realise they have left it too late to start a family," she wrote in the letter according to The Daily Mail.
"For so many, this news comes as a genuine surprise and the sense of devastation and regret can be overwhelming.
"Information is power and the best way to empower people to take control of their fertility is through education.
"Ideally, if a woman is ready for a child, she should start trying by the time she is 30. She should consider having a child early because as a woman gets older, her fertility declines sharply."
She said that on average as women age more treatment cycles are required for a successful pregnancy.
"So educating people about fertility is very important for the public purse, because it will help us to get more babies within the same NHS budget.
"Egg quantity and quality is frequently the problem."

7. Prison psychologist's affair with Skaf child rapist.
A prison psychologist who had an affair with a member of the notorious Skaf gang has been disqualified from practicing.
Thirty three-year-old Joanne Senior, a psychologist at NSW's Parklea Correctional Centre began a relationship with a man known as "Client A" who was jailed for his part in the rape of three teenage girls by Bilal Skaf's gang.
Fairfax Media reports that Client A's IQ score placed him in the bottom 1 per cent of the population, and he was diagnosed with an antisocial personality disorder and sexual perversion.
Ms Senior and the man had phone sex as well as telling each other they were in love. She took the last name of the rapist and moved in with his mother. She then obtained a passport in his name and when he was moved to another prison continued to visit him.
During the relationship, Ms Senior had also prepared a treatment report on his mental problems.
A tribunal heard that Ms Senior claimed she lost track of the emotional dynamic between herself and her client.
"I maintain that initially I was well aware of transference issues, however, over time, I did not recognise escalating signs of transference issues," she said.
The tribunal said in a judgment that Ms Senior committed "a very serious boundary violation and placed her client and the possibly community at risk".
"Ms Senior has also engaged in dishonest and deceptive conduct," panel members wrote in their judgment.
"Her insight into the seriousness of her conduct and its impact on her colleagues and the profession as a whole remains dubious."
She was barred from working as a psychologist for three years.

8. John Kerry breaks a leg.
US Secretary of State John Kerry has had to cut short a diplomatic trip to Europe after breaking his leg in a bicycle accident in France.
The 71-year-old US secretary of state, who had been holding talks in Switzerland on the Iran nuclear crisis, broke his right femur in the accident in Scionzier near Chamonix.
He was treated at the scene by a doctor in his motorcade and then flown by medical helicopter to a Geneva hospital. Mr Kerry will return to his hometown of Boston for treatment.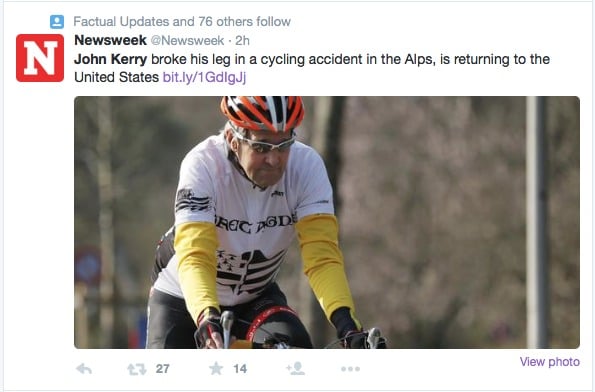 9. English footballers racist Thai orgy.
A video of three top British footballers participating in an orgy in a hotel room in Thailand during an end-of-season tour has been made public.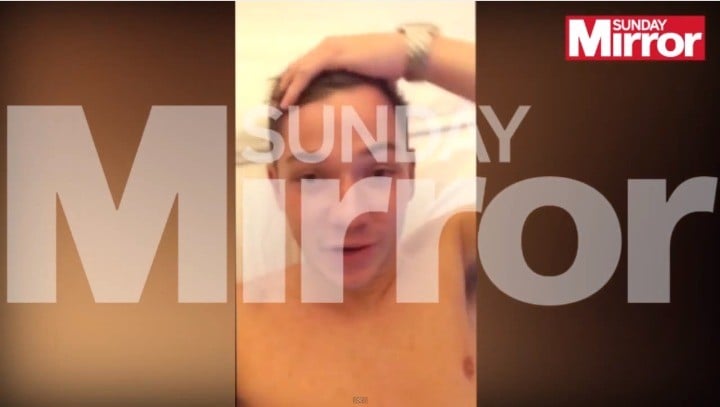 The three young footballers from Leicester City are shown making vile racist comments to the women involved, abusing the women and videoing each other having sex.
The three men, James Pearson, 21 – the son of club manager Nigel Pearson – Adam Smith, 22, and Tom Hopper, 21, are heard calling the women racist names and laughing.
The footage has been made public by newspaper, The Mirror.
The owners of the Leicester City football club are Thai businessmen Vichai and Aiyawatt Srivaddhanaprabha.
A club spokesman said action would be taken 'if necessary'.
The Leicester Mercury reports that Nigel Pearson is a patron of football's "Kick It Out" anti-racism initiative.

10. Students told that teachers didn't want to see "sausage rolls".
Female students at a school in the US have demanded an apology from their school after a letter asking them to dress appropriately was sent to them for their graduation.
The note, sent to students at Biglerville High School, Pennsylvania, told teenage girls that the teachers didn't want to see "sausage rolls" and to choose their outfit appropriately.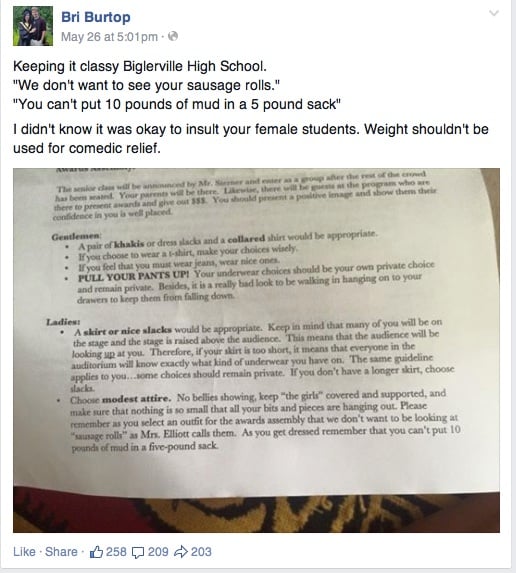 Male students were given simple guidelines for the ceremony: collared shirts, khakis, and no visible underwear. The rules for females: "Make sure 'the girls' are covered up" and hide any unappealing "bits" or "sausage rolls."
"You can't put 10 pounds of mud in a five pound sack" the note read.
One teenage student, Brianna Burtop posted the letter online writing "You're supposed to feel safe and comfortable here. For a letter like that to come from the administration is really appalling."
The school said that the letter was one drafted last year and was not meant to cause offence.
Do you have a story to share with Mamamia? Email us [email protected]
[post_snippet id=324408]