Lab-made, synthetic diamonds are becoming increasingly similar in quality, cut, and clarity to natural ones. Technological advances has resulted in their growing use and acceptance in industry – but cracking the luxury consumer market is the final frontier. This is in large part to do with the the way consumers place value on products.
The idea of creating diamonds in a laboratory is not new. Scientists have been at it since the mid-19th century, armed with the knowledge that diamonds are the product of carbon that's exposed to high heat and pressure. But applying this in a lab environment remained elusive until the 1950s. Since then, three different techniques have been developed to produce increasingly authentic-looking synthetic diamonds. This applies to their appearance, as well as their physical properties such as thermal conductivity, electron mobility and hardness, which can even be superior to natural diamonds.
Thus, synthetic diamonds are increasingly used in high-tech laser cutting and polishing tools. Electronic applications are also being developed for various industries, such as power stations. Analysts estimate that more than 95% of all industrial diamonds are synthetic.
Two types of threat
An immediate threat that synthetic diamonds pose to the traditional industry is from those that are falsely marketed as natural. With the labour costs of cutting and polishing natural diamonds on the rise, there is a growing concern that synthetic versions are being passed off as the real deal to make savings. Synthetic variants are around 15-25% cheaper.
But this is a relatively manageable threat. Preventive measures such as devices that allow quick detection of synthetics and a new Natural Diamond Quality Assurance programme have been put in place. And discussion is ongoing regarding laws that require retailers to explicitly mark synthetic diamonds.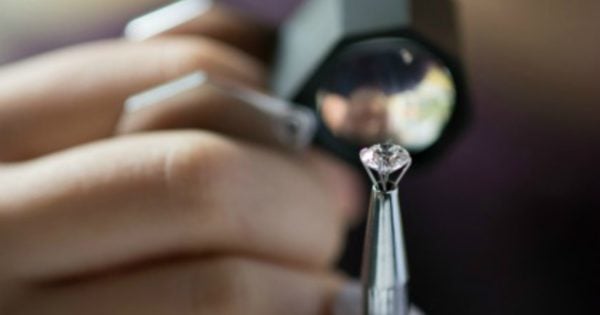 Could you tell the difference? Image via iStock.
The bigger threat comes from losing market share to consumers who might consciously choose synthetic diamonds over natural ones. The natural diamond industry is still suffering from increased awareness of "blood diamonds" – diamonds that have been used to finance conflict. The synthetic diamond industry has exploited this trust by marketing theirs as "conflict-free" and "ethical".
But there's another issue, which cuts to the core of why diamonds are considered so valuable and are such a mainstay of the jewellery industry. It's all to do with what people perceive to be valuable.
Value is in the eye of the beholder
Price is always determined by what people are willing to pay for products – and this is no different with diamonds. Research carried out by my team over the years, continuously demonstrates that value is multidimensional in nature. There are three specific dimensions that matter: social, personal and functional value.
Social value represents how valuable we perceive something to be in relation to other people – will it make us look good, will it boost our image or status? Personal value reflects how it will satisfy our wants and desires. And functional value represents how useful the product is perceived to be. For every purchase, we assign different levels of importance to each of these dimensions.