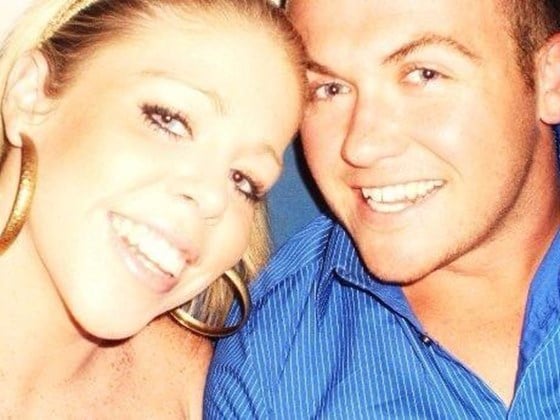 Update:
The Queensland man whose fiancé died during childbirth earlier this month has called for more research into the condition that took her life.
The ABC reports Wayde Kelly said he's struggling to understand how his partner, Kymberlie Shepherd, could pass away so suddenly.
"It's rare and unexpected, but so is a snakebite but they've got anti-venom for that," he said, according to the ABC.
"She was holding my hand, they went to get oxygen for her and she let go… it's something you can't unsee.
"Every morning I've woken with that image in my head."
Mr Kelly also shared more photos of their beautiful son Kyden on Facebook, posting images of the little boy visiting his grandmother — as well as images of a memorial service for Kymberlie's, after which wellwishers released balloons into the sky.
"I know she is up there looking over us and helping me look after Kyden and would be so happy with the display of love this arvo," he wrote.
"Thanks to Everyone who did anything to assist. I will be around, back and forth but never the same without my partner in life."
Mr Kelly added in a separate Facebook post that he had been "getting the word out" about the position, posting on Saturday to say the Amniotic Fluid Embolism Foundation had been "very supportive".
A celebration of Ms Shepherd's life was held this morning in Mudgeereeba, Queensland. Guests wore bright colours to the ceremony in her memory.
Amniotic Fluid Embolism occurs when amniotic fluid or fetal material enters the maternal bloodstream. Its cause is not exactly known and there is no proven effective treatment; it also cannot be predicted or prevented, according to the ABC.
Previously, Mamamia wrote:
Kyden Thomas Bede Kelly entered the world last Thursday, 16 October.
On that same day, his mother — Kymberlie Shepherd, 26 — tragically left it.
Now, Kyden's heartbroken father Wayde Kelly, 26, has spoken out about the rare complication that killed his "soulmate" and fiancé — and has shared photos of the beautiful little son he must now raise alone.
"The most amazing, beautiful, caring, selfless, funny, bubbly and loving individual has been taken from me and this world way too soon," the devastated new father wrote on Facebook on 17 October.
"For Kym, becoming a mum was what she has always wanted to do. We had to travel the word, get our dream jobs, buy a dog and do everything that we would one day want to do first. We finally had and it was time to have a baby!" he wrote.
"Her final selfless act in this world was to deliver her beautiful, health(y), 7lb 15oz son…. Earth has truly lost an angel, I have lost my other half."
Mr Kelly described Ms Shepherd's labour at a Perth hospital to Perth Now.
"They said the baby's nearly here — she was trying to push and then she said she felt light-headed," he said.