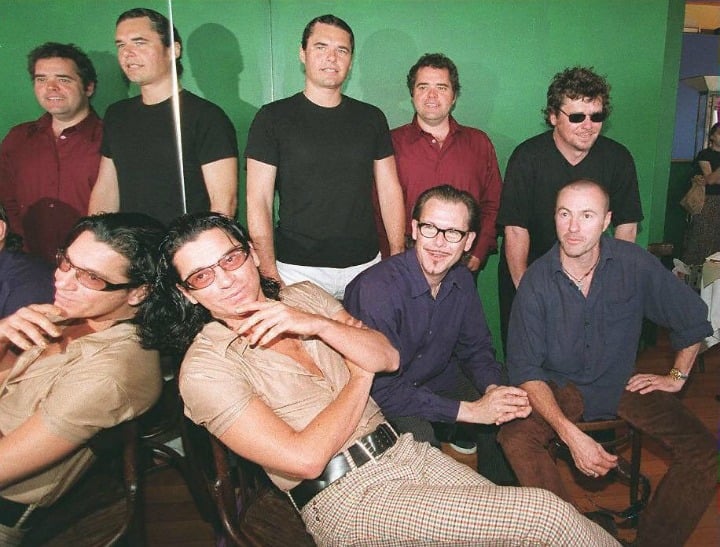 If you were alive in the 80s or 90s, it's likely you grew up fantasising about INXS frontman Michael Hutchence.
But in the 1990s Kylie Minogue dated him for real — and she's just shared a vintage memento from their time together on social media.
Today, on what would have been Hutchence's 55th birthday, 46-year-old Minogue posted a photo of the musician to Instagram along with the caption: "Of COURSE, I found this today!!! Or did it find me? It's from my old Fil-o-fax! Happy Birthday#MichaelHutchence #INXS #WeMissYou".
The image, which features Hutchence in a half-opened white shirt leaning casually against a railing, is a nostalgic memento of the two years the iconic Austrlaian musicians spent together. It's a relationship that, Minogue has admitted, involved "a lot of firsts".
Hutchence passed away at age 37 on 22 November 1997, his death reported a suicide by the NSW coroner. His ex-partner Paula Yates subsequently died of a heroin overdose in 2000, leaving the couple's only child together, Tiger Lily, to live in the care of Yates' ex-husband Bob Geldof.
Minogue, who remained friends with Hutchence after their split, has previously spoken openly of her affection for the singer, telling News Corp: "A guy with that much charisma, it doesn't just switch off, you know. You don't just forget about that person.
She added that she approved of last year's hit telemovie INXS: Never Tear Us Apart, remarking: "I don't know what it was like with other women in his life, but my love for him remains and it's good that everyone else's love has been reinvigorated with this show."
Speaking in a separate interview for 60 Minutes, Minogue has also revealed that when she first met Hutchence:  I'd never met anyone like that".
"I was like probably not very cool then, and he was über cool, and somehow we met in the middle. I love seeing pictures from then because he was just, he was so proud," she said.
She added their relationship was "was great love and it was true heartbreak".
"He was just this kind of expansive all-encompassing love of life. And if you have such a strong love, and they're not there, that's somehow different to having a strong love for someone where you you've got the possibility to see them again or talk or, you know, share  more experiences," she said.
"So, I miss him just as much as anyone who was fortunate enough to share time with him."
Kylie also confirmed in the interview that the pick-up line Hutchence used on her character in the telemovie was "almost exactly correct."