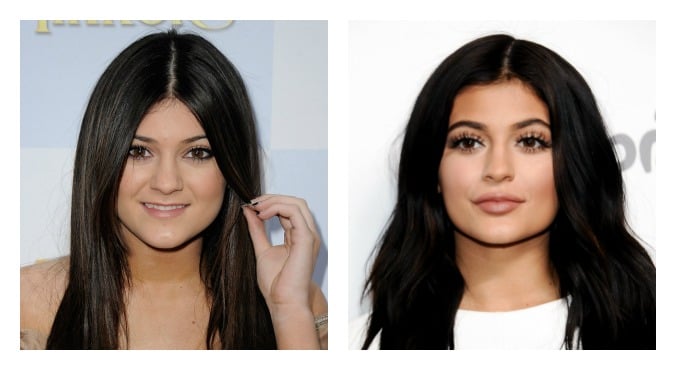 Image: Kylie Jenner in 2012 (left) and in 2015 (via Getty).
In a pre-Internet world, the pillowy lips of a famous teenager wouldn't have made many headlines, if any at all.
Alas, that's not the world we live in and Kylie Jenner is proof of that. For almost a year, the 17-year-old's pout was the subject of 'did she or didn't she?' cosmetic surgery speculation, which all came to an end earlier this month when Jenner admitted she'd had temporary lip fillers.
RELATED: The one thing Kylie Jenner and Selena Gomez should not feel they have to defend.
In an interview this week, Kim Kardashian admitted she encouraged her teenage sister's decision to have the fillers. "If I had a daughter that was her age, what would I do? And I saw for so many years how she was so insecure. At 10 years old, she would say to me: 'How come my lips aren't big like yours?'," she told Access Hollywood.
"I gave her the advice and I still stand by that advice… it changed her confidence so much." (Post continues after gallery.)
Although Jenner's lips have been the centre of attention, keen eyes have also been drifting to other parts of her body that appear to have undergone dramatic changes.
When you compare recent photos of the youngest Kardashian sibling to shots taken even a couple of years ago, it's clear she looks different. Although changes to appearance are normal for a developing teenager — especially when makeup comes into play — many suspect Jenner's changing look is the result of cosmetic enhancements, although she's vehemently denied ever going 'under the knife'.
RELATED: People are taking the #KylieJennerChallenge with catastrophic results – and now Kylie's responded.
According to Dr Benjamin Norris from Costhetics.com.au, this speculation isn't totally unfounded.
"I think she's been surgically altered, for sure. She looks a completely different age in the 'post-op' [photos]. I don't know whether it's sophistication and makeup and what she does for a living, but she looks vastly different," Dr Norris, a plastic surgeon, says.
Looking at 'before and after' photos, Dr Norris says  Jenner could have undergone a number of facial procedures, including jaw reshaping, a mandible implant, facial fillers — "she very clearly lacks nasolabial fold lines now, they're completely filled in" — and tweaks to her eyes.
"The eyes look remarkably different. There's an element of makeup there, but to me the eyebrows look significantly higher, and if you look at the distance between the eyebrow and the lash line and upper eyelid, it's remarkably different. I suspect she's had either very well done Botox, or a brow lift — which would be incredibly unusual at 17 — and possibly an upper eyelid reduction, which again at 17 is odd."