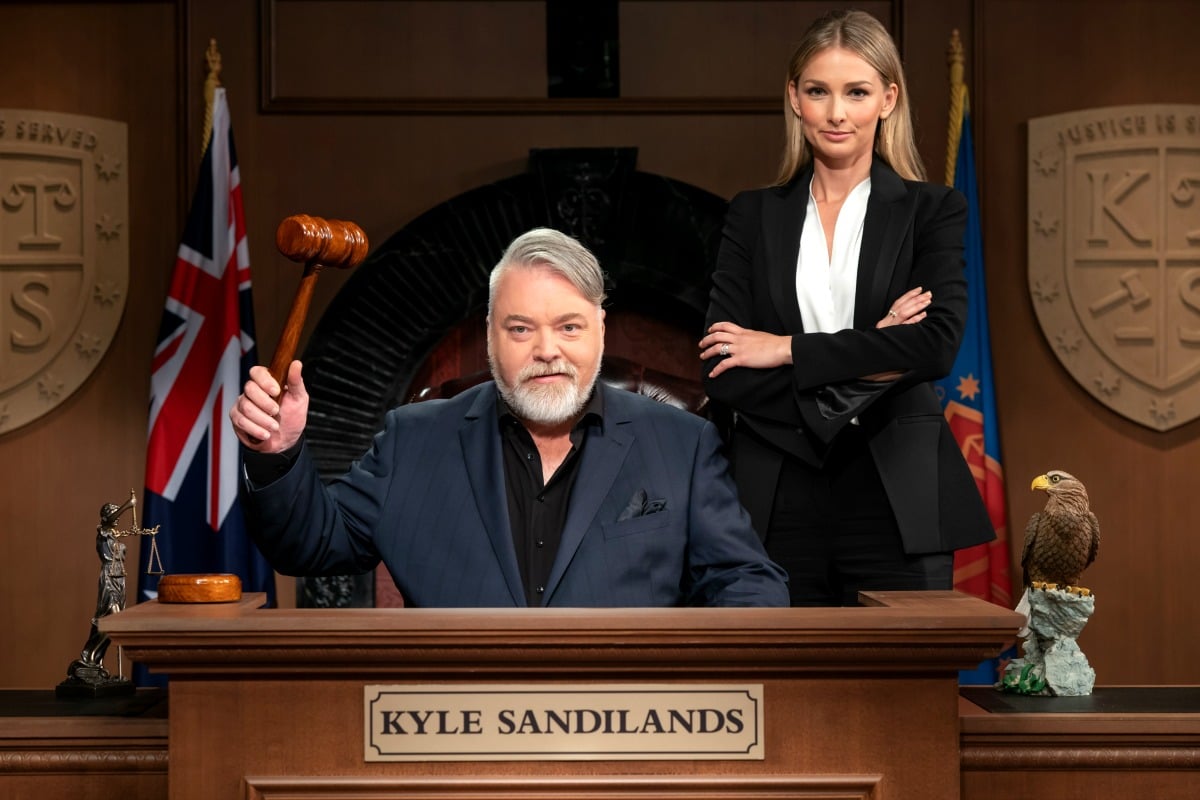 They say not to air your dirty laundry in public, but in this case, we'll make an exception for a new prime time TV show.
That's pretty much the premise for Network Ten's new series Trial By Kyle, which is kicking off this week, and features radio host Kyle Sandilands hearing cases (well, mostly petty complaints) from everyday Australians and then passing down his verdict.
The series first debuted back in 2018 as part of Ten's Pilot Week program and has now been brought back for a full season.
However, since Kyle has no kind of legal knowledge or experience, according to Ten "the only bar he's ever passed is the one at his local pub", The Bachelor winner and actually qualified lawyer Anna Heinrich is on-hand during the show to offer up legal advice and some occasional side-eye in Kyle's direction.
Speaking on Mamamia's daily entertainment podcast The Spill, qualified criminal lawyer Anna broke down exactly what's real on the show and what's not, answering all the allegations we had about the reality of this new show.
Listen to Anna Heinrich dish on Trial By Kyle on Mamamia's daily entertainment podcast The Spill.
On what kind of cases we can expect to hear on Trial By Kyle:
"It's very unpredictable," Anna said on The Spill podcast. "All the cases are so different from one another, you've got drag queens fighting over stolen choreography and you've got a husband and wife dispute where the husband is suing his wife for stealing money and using it for Botox.
"There's a case that I think is hilarious where the defendant put a tablet in the microwave because they thought it would charge quicker. So like an iPad tablet, and a few things are thrown across the room in that case. There are some heated friendship disputes as well and they get pretty feisty.
"I was scared. I was thinking at that time, 'thank God I'm over here in the corner'."
On how the whole show actually works and whether or not there is any law involved:
"I'm there to advise Kyle on what way he should go according to the law," she said. "But a lot of the time he doesn't listen to me, which really annoys me.