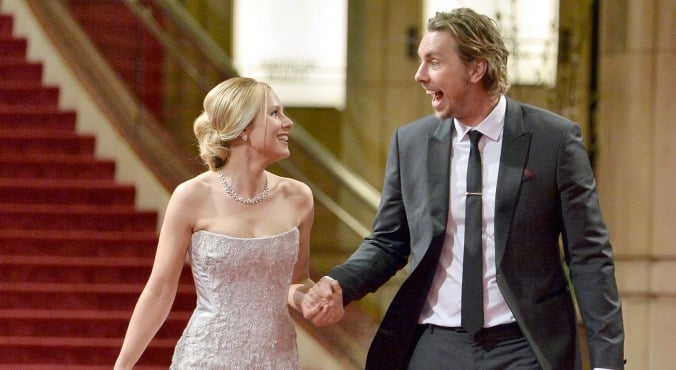 Image via Getty.
We're going to put this out there: Kristen Bell and husband Dax Shepard are a damn cute couple.
They're not quite your conventional Hollywood love story; she's short (5'1″), he's tall (6'2″),  she's a self-described goody goody, he's a former drug and alcohol user covered in tattoos. But they've been together seven years, have two kids and love each other. And they're also not afraid to talk about the hardships they've faced (and continue to face) as a couple.
They've spoken about a topic celebrities rarely do. Couples counselling. They don't just attend when things are going badly – they've been doing it since they started dating.
RELATED: 9 reasons your relationship might be failing
"There were hurdles, things she didn't trust about me, things I didn't trust about her. I just kept going back to 'This person has the thing I want and I have to figure out how we can exist peacefully' So we started [seeing a therapist together] right away," Shepard told Good Housekeeping in a joint interview.
It's an announcement that relationship therapist Isiah McKimmie wishes we saw more of.
"It's great to hear them being so open about it as it helps break the taboo about couples counselling and the embarrassment that people wrongly associate with it. They're doing such a great and important thing for their relationship. It's nothing to be ashamed about," she says.
"Doing it from the beginning or before things get really bad makes such a difference. It doesn't mean your relationship is a failure, just that you're investing in your relationship."
It's that fear of admitting to failure that McKimmie believes puts people off seeking help.
"I think that relationships are a personal area of our lives that we feel like we should just know what to do. So turning to someone else for help  - many people feel like its a sign of failure. But we get help from other people in all areas of our lives - from personal trainers, for our finances, so why should this be any different?"
RELATED: Seven things all productive people do
It's a point Bell was also quick to make. "You do better in the gym with a trainer; you don't figure out how to cook without reading a recipe. Therapy is not something to be embarrassed about," she said.
So why is it that we're so nervous about asking for help in this one particular area?