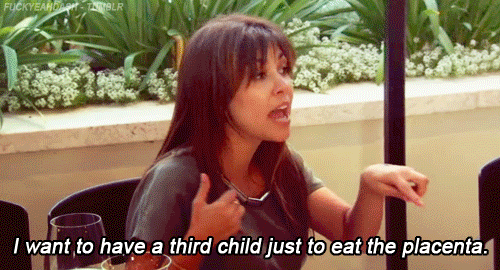 Image: Giphy.
Do you ever feel that if the Kardashians didn't exist, we'd actually have nothing to talk about?
Like yesterday we had Kylie Jenner's Very Important Makeup Free Selfie to discuss – has she or hasn't she had her lips done? – and today's Kardashian gem comes via Kourtney, and her preference to eat placenta pills.
The pregnancy side effect we don't hear enough about.
The 35-year-old recently had her third child, Reign Aston Disick, and revealed on Instagram that she's been chowing down on her placenta since she gave birth on December 14 last year.
"Yummy...PLACENTA pills!" she captioned the pic. "No joke... I will be sad when my placenta pills run out. They are life changing! #benefits #lookitup"
The image quickly garnered 251,000 likes and over 19,300 comments. As you can imagine, there was plenty of 'WTF' and 'Ew, gross' comments, but also plenty of support for the celebrity mother.
"I had post partum depression with my first born. It was terrible and I had horrible thoughts about myself and my baby. The second time around, i encapsulated my placenta, and no ppd in sight!! Also my milk supply came in faster and stronger! My energy level was through the roof!! This is beautiful!" one Instagram used said.
Why are celebrities waiting until the third trimester to announce they're pregnant?
She's not the only celebrity to rave about the benefits of afterbirth. Mad Men actress January Jones did so after the birth of her son, Xander, in 2012.
"I have a great doula who makes sure I'm eating well, with vitamins and teas and with placenta capsulation," Jones said.
"It's something I was very hesitant about, but we're only the only mammals who don't ingest out own placentas."
Girls' star Gaby Hoffman (she's the one who plays Adam's sister) just this week revealed she prefers her placenta in smoothie form, and shared the recipe.
"I had a home birth, so my midwife and my doula took it and cut it up into 20 pieces and froze it, and every day, I put it in a blender with strawberries and blueberries and guava juice and a banana, and I drank that s**t up," said Hoffman.
If you have a stronger stomach than us, here's an insight into how placenta pills are made.
As for who the next celebrity who will make the leap into placenta noshing, our bets are on Blake Lively.
Would you?
Celebrities who are expecting.