The other week a couple of friends and I were discussing some of our favourite beauty discoveries of late.
On the recommendation of a work colleague, I'd tried the IT Cosmetics CC Cream Illumination SPF 50+ and immediately fallen in love with it. It was sun smart, gave a dewy glow and a higher-than-average coverage for a foundation alternative. Winner.
As I was waxing lyrical about it to my friend, I happened to pause and look at the ingredients on the back of the tube. The second on the list? 'Snail secretion filtrate'. I immediately recoiled at the thought.
Snail slime? Why on earth would I want to put that on my face?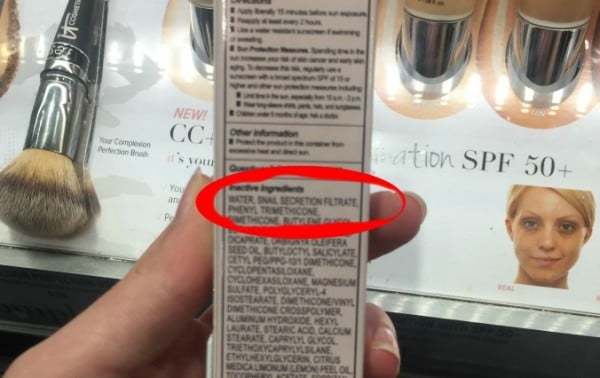 Strange ingredients.
From bee venom to donkey milk, strange beauty ingredients are nothing new, but snail slime is one gaining (or should we say regaining) serious traction in the beauty world.
The first use reportedly dates back to ancient Greece, where crushed snails and sour milk were prescribed to treat inflammation.
Fast forward a few thousand years and Chilean farmers who were handling snails to feed the French clocked onto the fact that their skin appeared "visibly smoother"... and it quickly gained popularity in 'skincare mecca' South Korea, before trickling outwards to Western countries.
Fortunately, now it's all about secreted slime rather than poor, squashed snails.
Listen: A woman contracted herpes by trying on lipstick in a store. Is the store at fault, or did she have it coming? Post continues after audio. 
What it does.
The technical name for the slime is Helix Aspersa Müller Glycoconjugates (try saying that fast three times!) and usually labelled "snail secretion filtrate", snail mucin is described as a 'thick fluid gathered by stimulating live snails'.