A South Australian mum has turned an $8 item from Kmart into the perfect sun-safe play thing for her twins.
Posting on the Kmart Mums Australia group, Krystal Findlay said she'd simply bought an $8 tent for her little ones and filled it with sand, to create the perfect outdoor play area for her kids.
Sand in a confined space and portable shade? That's a parenting win if ever we saw one.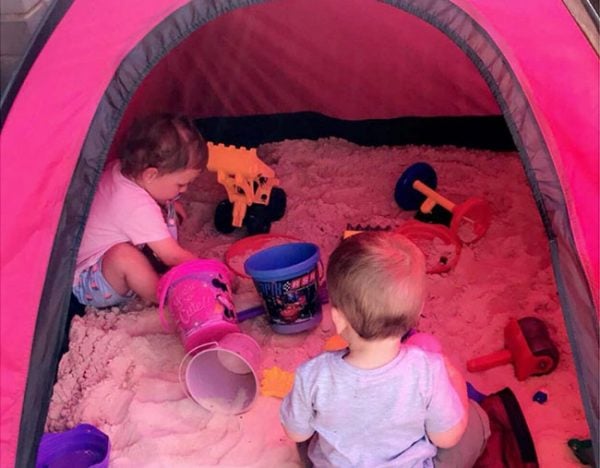 Krystal also pointed out that her 'invention' had the added bonus of keeping nasty things (read: creepy crawlies, or the neighbours cat who sees a sandbox and thinks 'litter box') out, so the area is safe to use at any time.
"Can be zipped up when not being used," she wrote.
All up, Krystal's invention cost just over $15, after purchasing the tent and five bags of sand from Bunnings, which set her back $7.20.
Other parents were quick to share their praise of Krystal's resourceful thinking, commenting that the DIY sandpit-tent was "much cheaper" than anything similar on the market.
"Great idea, best yet," one mum wrote, while another added, "I'm stealing this idea for daughters 2nd birthday".
LISTEN: How one family survived three months on the road with a one-year-old.
The homemade sandpit isn't the first Kmart hack to go viral this month: earlier this week a mum shared how she turned two dresses into a stunning racing look and another shared how she used just $3 to create the perfect travel companion for little ones.