HBO's wildly popular series Game of Thrones may be known for its gory scenes and unapologetic brutality amongst characters, but according to Kit Harrington, it's also a place where love can flourish.
Speaking to Vogue Italia in their June issue, Harrington, who plays defender of the wall Jon Snow revealed that it was on set that he and co-star Rose Leslie came to fall in love.
When asked what his favourite time from set life throughout the years of filming has been, Harrington replied, "The three weeks in Iceland where we shot the second season. Because the country is beautiful, the light of the North magic, and why it was there that I fell in love. If you are attracted to a person and in fiction is your love interest, it becomes easy to fall in love … ".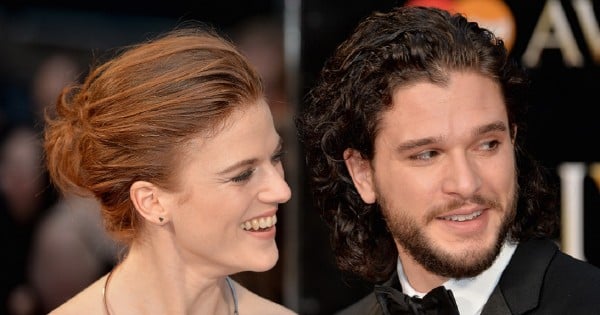 The couple stepping out in April of this year. Source: Getty. 
Playing the wilding Ygritte, Leslie worked with Harrington on the series throughout seasons two, three and four. Rumours of an off-screen romance began not long after the  famous cave scene, in which Jon Snow was shown to be the original creator of cunnilingus - which is sure to make any woman fall in love with you, to be quite honest - but the pair only made their love publicly known earlier this year.
With season six now underway, Harrington has found himself having to apologise to fans after peddling the cruel lie that his character was dead.
Love in a cold climate. Nawww. Source: Youtube.
But, as he admitted on The Tonight Show with Jimmy Fallon recently, being one of the few keepers of the secret has had its perks, saying he used it as bribery to get out of a speeding fine.
"This policeman comes up and pulls me over… and he said, 'Look, there is two ways we can do this. You can either follow me back to the police station now and I book you in, or you can tell me whether you live in the next series of Game of Thrones'," the actor told the US talk show host. 
"So I looked at him and I went, 'I'm alive next season,' and he goes, 'On your way, Lord Commander'."
Who knew, miracles really do happen.
Listen: We unpack the Game of Thrones Season 7 finale, on The Binge.