It's hard to imagine Kit Harington as any other Game of Thrones character than Jon Snow.
For six years, we've watched the 30-year-old actor go from brooding Stark bastard to… well, brooding new King in the North.
But things could have been very, very different if this "leaked" audition tape is anything to go by.
You see, according to late-night talk show host Jimmy Kimmel, Harington originally tried his hand at some of the show's other iconic characters first.
LISTEN: The Binge recaps everything that happened in the last season of Game of Thrones… in 90 seconds.
And after seeing these images, we will never see Jon Snow the same again.
Because every time he utters the words "Winter is coming," we'll most definitely hear the words: "If you'll excuse me, I need to have sex with my brother" and see this instead: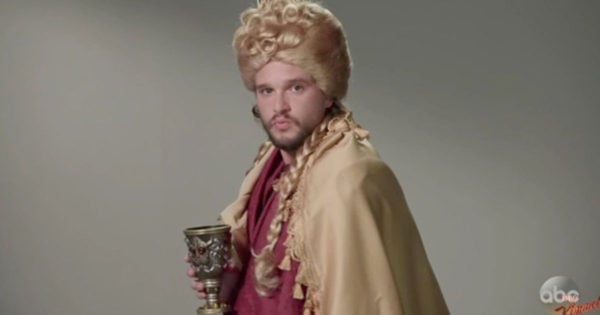 And our beautiful memories of Jon and Ygritte's ill-fated romance are forever ruined by this mental image of Harington dressed as the flamed-haired wildling: