Questions about the security of one of Paris' most exclusive hotels have been raised following the 3am robbery of social media superstar Kim Kardashian West.
Located near the Madeleine Church in the 8th arrondissement, the Hotel de Pourtales has no website, no listed address, no online booking system and no phone number.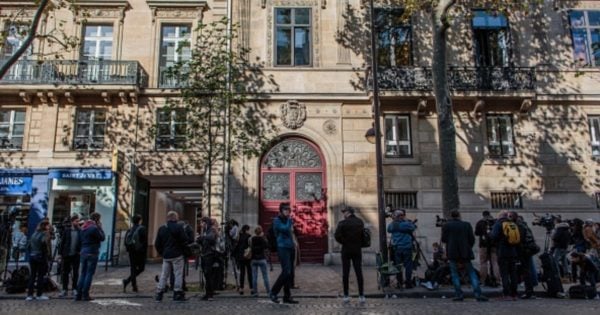 Outside Kim's Paris apartment following the robbery. Source: Getty. 
But despite all that, five masked robbers still located the hotel and successfully bound the concierge to a staircase before taking a gun to Kardashian West's head and eventually stealing $14 million in jewellery and mobile phones.
So what's the story behind Hotel de Pourtales?
Originally built for Count James Alexander of Pourtalès  in 1839, the building was recently subdivided into nine luxury apartments (one of which Kanye West is rumoured to own), and underwent a major renovation in 2008.