Content note: Light-hearted Kardashian news ahead. If you're looking for the serious stuff, proceed with caution or click here.
If you don't follow Kim Kardashian on SnapChat already, today is the day to start.
Why? Because the 35-year-old is snapchatting up a storm at the MTV Video Music Awards and it's nothing short of glorious.
Sure, she might've been disappointed that hubby Kanye went home award-less, but that didn't keep her away from ye olde social media.
From Olympians to pop musicians, she's taking selfies with absolutely everybody (in the whole wide worrrrrrld).
It all started out with "Into You" singer and Disney alum Ariana Grande… with a giraffe filter to boot.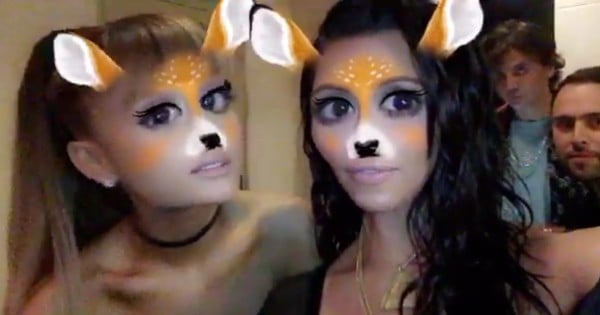 And then we had Me & U singer, Cassie, alongside nonother than P-Diddy.